REWIND
REVIEW

"
This Is Your Home, But Where Is Your Heart?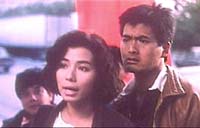 Starring
Chow Yun Fat, Cherie Chung, Gigi Wong Suk Yee, Brenda Lo
Review
Two guns, cigarettes, shades and a smirk... These were the defining characteristics of the Chow Yun Fat movies that I was used to.

I couldn't really imagine watching him in anything other than an ultra violent, ultra cool movie about sharp dressing killers tooled up with colt 45s, strutting around the mean streets of Hong Kong in slow motion...

...Until now, that is.

'An Autumns Tale' is a moving, well-acted film about the emotional and sociological issues that surround immigration and cultural identity. The movie sees Chow Yun Fat as Samuel Pang a.k.a. Figgy (short for Figurehead) a stoner who lives in the ghettos of Chinatown New York, Figgy's an ex-sailor who now waits tables, drinks like a dehydrated Killer Whale and loves to gamble. Figgy doesn't seem give a damn about anything anymore, but being an amiable sort of bloke; he's happy to look after his "Sis 13" (his 4th aunt's 13th cousin) Jennifer, who's just come over from Hong Kong.

Jennifer is played by one of Chow Yun Fat's regular co-stars, Cherie Chung, Chung is an excellent actress, and for me, epitomises every aspect of the immigrant's struggle; she's educated and sure of her own mind, but the culture clash and the way in which the 'western world' can sometimes generalise all foreigners, makes her a little withdrawn, unsure of how she can prove herself without shaking things up too much.

Jennifer was told by her family back in Hong Kong that Figgy was some kind of community leader in Chinatown NY, the truth, as we all know, couldn't be more different. She also discovers that her boyfriend Vincent (Chan), who she came to see and study with, couldn't really give a toss about her. Jennifer's inherit naivety is at odds with her obvious sense of cultural pride and individual identity; this adds another layer of characterisation to this already complex portrayal, and the way in which Chow Yun Fat's happy go lucky geezer tries to cheer her up is endearing and often evokes memories of Yasujiro Ozu's old- time classic 'Tokyo Story'.

An Autumn's Tale's original, eastern title is "Chou tin dik tong wah"
Author:
Kashif Ahmed
Update This Review
Verdict
Similar in direction to the 1997 film 'Side Streets' which dealt with the same subject matter, 'An Autumns Tale' should hit home hardest for anyone whose family has ever had to emigrate.

It's about the paradox of culture. How you can love and hate something in equal measure, a movie that's not really geared towards crowd pleasing immediacy, but is the kind of film that you'll find yourself thinking about a few hours after you've seen it.

'An Autumns Tale' sees Chow Yun Fat put in another great performance, one which resonates with pathos, believability and slacker-style. A welcome return to the kind of 'Neo-Realism' not seen since the days of Zavattini and De Sica's 'Bicycle Thieves', and even if you're not a fan of character driven movies, I urge you to watch this film whenever you can; don't expect to be bowled over straight away, but see it for the honest acting, fine direction and well-written story: A film for all seasons.
A beautiful story well told and superbly acted: one of Yun's finest dramatic roles and easily Cherie Chung's best role to date.

Fans (like myself) of Chow Yun Fat's John Woo colaborations will need a bit of time to adjust to this movie's pace and narrative style.
Rewind Rating
The Movie Data
Key Crew
Director: Mabel Cheung
Writer: Alex Law, Chi-Yeuh Low
Producers: Dickson Poon, John Sham
Locations Manager:
Update The Crew
Data
Release Date: -- Dec 1987
MPAA Rating: R
Studio: D & B Films Co. Ltd.
Production: D & B Films Co. Ltd.
Genre: Drama
Update The Data
The Movie Trailer
Jump To: Music & Soundtrack Vibes
Or use the menu to navigate
1987 D & B Films Co. Ltd.
1999-2020 fast-rewind.com
V4_27 Powered by Rewind C21 CMS