REWIND
REVIEW

"
High School Honor Student By Day. Hollywood Hooker By Night.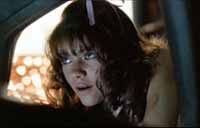 Starring
Donna Wilkes, Cliff Gorman, Susan Tyrrell, Dick Shawn
Rory Calhoun, John Diehl, Elaine Giftos, Donna McDaniel, Graem McGavin, Mel Carter, Steven M. Porter, David Underwood, David Anthony (II), Joshua Cadman, Greg Lewis, Karyn Parker, Dennis Kort, Ken Olfson, Peter Jason, Gene Ross Update Cast
Review
ANGEL - "Her two world are about to collide. It's her choice. Her chance. Her life."

Los Angeles, 1984. Molly Stewart (Donna Wilkes) is a sophomore at the affluent North Oak Prep School. She's got great grades (Molly's the only student who doesn't moan in disgust when the literature teacher assigns homework - in fact, she's all smiles) and all of the boys want to date her. However, each teen lothario is shot down by Molly, who coyly replies, "Sorry, my Mom thinks I'm too young to date." Oh, if the boys only really knew what sweet Molly was up to!

Molly lives in a cute little apartment building with her bed-ridden mother; her father ran out on them years ago. She's the perfect tenant - she always pays her rent on time to landlord Solly (Susan Tyrrell), a vulgar but good-hearted lesbian who looks after her. Also keeping his eye on her is Mae (Dick Shawn), a lavishly dressed drag queen who lives with Solly. They're an eye-opening pair, and they're always fighting about something, but Solly and Mae are almost like surrogate parents to our heroine Molly.

As night falls in Hollywood, Molly sits at her bureau, applying make-up and doing her hair. She's no longer the pig-tailed innocent she was at school earlier in the day - now she becomes 'Angel,' a streetsmart Hollywood Boulevard hooker. With her poor mother being ill and making no money, how can Molly possibly afford rent and her tuition for North Oak? Forget about taking orders at the local McDonald's, Molly would rather become 'Angel' and turn tricks to make ends meet. You can't blame her, I guess - even in 1984 I'm sure walking the streets beat minimum wage. Molly is usually accompanied by Mae on the boulevard as well as Kit Carson (Rory Calhoun), an old cowboy movie star with a fading memory. He hobbles alongside Angel and Mae signing autographs for confused tourists and showing vice cops his pistol. Molly/Angel's best gal pals are Crystal (Donna McDaniel) and Lana (Graem McGavin). The three girls share a seedy motel room, and like Molly, plucky Crystal is also a straight-A student during the day! Where do these gals find the time?

Anyways, this likable but decidedly dysfunctional world is in trouble. A killer (John Diehl) is on the loose, knifing street working girls and making love to their lifeless corpses. Lt. Andrews (Cliff Gorman) is on the case but he has no leads, and he's baffled (as are we) as to how the hookers can continue to work when there's a loon on the loose. Crystal is the first victim, and then Lana is murdered next. Molly/Angel is distraught and upset, and she is taken to the police station by Lt. Andrews to check out a line-up of suspects since she did see Lana with the maniac. Amazingly enough, the wacko is in the line-up, after being picked up by the cops in a porno theatre. Leave it to a rookie to ruin things - a young cop walks in the line-up room bringing coffee to another cop, but he is still wearing his holster. The killer grabs his gun and goes on a rampage at the station, where he gets a good look at a horrified Molly/Angel, who is protected by Lt. Andrews during the shoot-out.

Things at North Oak aren't going so well for Molly, either. Miss Allen (Elaine Giftos) is wondering why she doesn't participate in extra-curricular activities, or why she doesn't hang out with the cheerleaders. Molly explains to her that she has to take care of her sick Mom and do homework, so she doesn't have time to socialize. The sassy Miss Allen reminds her, "There's more to life than good grades." She's right, but if she only knew that Molly was a hooker being stalked by a maniac! Well, she does find out, when a car-full of idiot jocks just happen to see Molly/Angel working a corner. They pull her into the vehicle and threaten to rape her, but she scares them away when she takes a gun from her purse and shoots out one of the car windows. Of course, the jocks tell Miss Allen this story and she hardly believes it, until she goes into Molly's locker and finds the gun in Molly's binder. In the locker room, poor Molly runs off in tears when news of her nightly naughtiness reaches the cheerleaders. "She's a whore? Oh my God! And I really liked her." Molly runs off across the football field in a dramatic scene, where Lt. Andrews is waiting, willing to help her and her predicament.

Miss Allen, now sassy and snoopy, goes to Molly's apartment building to have a talk with Molly's Mom. After giving Solly a verbal lashing, Miss Allen goes to Molly's apartment where Mae tries to pass himself off as her Mom. However, a guidance counselor can't be fooled. It's revealed that Molly's Mom ran off on her as well, and that Molly has been hooking for years, for fear of being tossed in a foster home. Miss Allen decides that with Mae's help, she's going to get Molly off the streets and back to a semi-normal life.

Things only get worse for Molly/Angel when the psychopath shows up at the apartment building and fatally stabs Mae. The killer flees and Solly finds a bloody Mae, which is a poignant and moving scene as she sobs over his body. Molly has had enough, and she slips on her pumps and mini-skirt, grabs her gun, and rushes out to Hollywood Boulevard. She's out for revenge at any cost - he killed her friends and now Mae - Angel is out to teach this sicko who's boss. Lt. Andrews and Kit try and find Angel but it's no use, as Angel has already started her climactic showdown with the killer on The Hollywood Walk Of Fame.

Even if this movie weren't well-made and entertaining, it probably would have still made good money thanks to it's sensational ad campaign, showing cute Donna Wilkes as a prim school girl on one side of the poster and as a sultry streetwalker on the other. Wilkes is very effective here, she's adorable, she's sexy, and she knows how to turn on the tear ducts in emotional sequences. She also manages to race down the boulevard in pumps, which I assume isn't easy! Cliff Gorman, Susan Tyrrell, Dick Shawn and Rory Calhoun give Wilkes funny and engaging characters to work around, but Tyrrell and Shawn steal the show when they're on screen. Donna McDaniel also makes a good impression as the doomed hooker Crystal.
Author:
Dave Grubka
Update This Review
Verdict
Even though ANGEL is pure exploitation, it makes the grade thanks to it's talented cast, off-color yet sometimes hilarious dialogue and fast pace.
Donna Wilkes is excellent, the Hollywood scenery is first-rate, and the music by Craig Safan is beautiful.

No explanation or motive is given for the killer's actions.
Rewind Rating
The Movie Data
Jump To: Music & Soundtrack Vibes
Or use the menu to navigate
1984 New World Pictures
1999-2020 fast-rewind.com
V4_27 Powered by Rewind C21 CMS