REWIND
REVIEW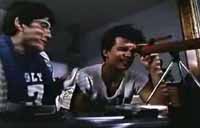 Starring
Pons Maar, Jennifer Darling, Matt Borlenghi, Riley Weston
Barbara Benziger (Jennifer Darling) has an impressive resume as a voice artist, featured in "The Smurfs", "Johnny Quest", "Teenage Mutant Ninja Turtles", "The Little Mermaid", "Tale Spin", "Capitol Critters", "Aladdin", "Pocahontas II", "Tenchi Muyo", "The Iron Giant", and "The Emperor's New Groove".
More Trivia from The American Scream
Review
What teenager ever wants to go on vacation with their sickeningly-cheerful, clueless parents? Especially to some snow-covered resort town full of grumpy adults, where the local entertainment consists primarily of barn dances?

Certainly not Brent and Bridgett Benziger (Brent Borlenghi and Riley Weston), and their respective friends, Larry and Rosanne (Kevin Kaye and Jeanne Sapienza). What's worse, the vacation starts just as the boys are looking through a telescope at the trampy neighbour getting naked in the house next door. What a way to spoil the mood!

But vacationing at Wilson Creek is a family tradition, and peroxide-haired Barbara (Jennifer Darling, "The Little Mermaid", "The Emperor's New Groove") and goofy, oblivious Ben (Pons Maar, "Return to Oz", "Masters of the Universe") couldn't be more excited.

No sooner have they approached their destination, though, things begin to get strange. From the back of the family station wagon, the kids can see an old man and his young, platinum-blonde wife in the car behind them - engaging in activties that certainly wouldn't be deemed safe by the motor vehicle department. The boys, in particular, are enjoying the peep show, until the wife grabs her crying baby and slams it against the window, covering the windshield in blood.

Despite the screams of terror from the kids, Ben remains in his own little world as the family's responsible driver. He refuses to pick up hitchhikers, saying "You never know what kind of clowns you'll find out here," just as the car passes a hitchhiker in full clown regalia. Har, har.

Things are even weirder in town - the Benzigers meet Ed Simpson (George "Buck" Flower), the local weirdo whose taxidermied dog, Blue, accompanies him everywhere. They go into a restaurant full of rude waitstaff and folks who look as though their parents were first cousins. People seem to be giving the Benziger kids and their friends the evil eye - but their parents don't believe them. After all, they had a bad attitude about this trip to begin with, right?

It doesn't take the kids long to figure out something is strange about this town. Everyone seems to be over 30, and at the barn dance that night, the girls are picked up by two incredibly creepy cops, who take them out to get drunk. When the boys come to their rescue, there's a minor skirmish - filmed in ultra-slow-mo - that ends with someone's head coming off. Eek.

Later, while exploring the woods alone, Bridgett and Rosanne come across the old man and the blonde they'd seen earlier, sitting outside their trailer, eating some very strange looking barbecue (a scene that wouldn't have been out of place in "Pink Flamingos"). Meanwhile, Ben notices the boys acting strange, and chalks it up to good old puberty, and takes Brent aside to give him the old Birds and Bees lecture. Always a rebel, Brent imagines his father's face falling to pieces, his ears falling off, and brains coming out his nose when he sneezes (I guess Pons Maar wouldn't take a role that didn't involve make-up effects).

The kids decide that the locals simply don't like kids - and they disguise themselves as adults in order to keep themselves safe for the remainder of the vacation. The boys grow mustaches, and the girls get pretty hot and heavy with their mullet-headed cop boyfriends.
Author:
ratt
Update This Review
Verdict
An underrated cult comedy-horror, American Scream is campy, silly, and just plain weird.
Pleasingly weird.

Confusing storyline, and some of the jokes fall flat.
Rewind Rating
The Movie Data
Key Crew
Director: Mitchell Linden
Writer: Phil Hopper, Mitchell Linden
Producers: Lori Levine, Mitchell Linden, Elliott Siegal, Icek Tenenbaum
Locations Manager:
Update The Crew
Data
Release Date: -- Dec 1988
MPAA Rating: PG
Studio: 21st Century Film
Production: 21st Century Film
Genre: Comedy
Update The Data
The Movie Trailer
Jump To: Music & Soundtrack Vibes
Or use the menu to navigate
1988 21st Century Film
1999-2020 fast-rewind.com
V4_27 Powered by Rewind C21 CMS