REWIND
REVIEW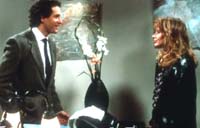 Starring
Steve Forrest, Arsenio Hall, Lou Jacobi, Rosanna Arquette
David Alan Grier, Michelle Pfeiffer, Sybil Danning, Henry Silva, Stanley Brock, Corey Burton, Debbie Davison, Griffin Dunne, Monique Gabrielle, Phil Hartman, Peter Horton, Rob Krausz, Donald F. Muhich, Joe Pantoliano, Erica Yohn, Brian Ann Zoccola Update Cast
Review
What do you get when you take 5 directors (John Landis, Robert K. Weiss, Joe Dante, Carl Gottlieb and Peter Horton) and match them up with more than 50 actors all at various stages in their career? You get "Amazon Women On The Moon", an 80s version of 70s television satires like "The Groove Tube" and "Kentucky Fried Movie".

The movie purportedly is a classic Universal sci-fi release starring Forrest, Joey Travolta and Robert Colbert as astronauts who meet the beautiful title women on a space trip, and end up as hostages of their queen (Danning). The film is in such bad shape, though, that the station showing it holds our interest with shorts, commercials and spoofs. Examples of which include:

-The nightmarish condo of Hall

-The interesting life of model Taryn Steele (Monique Gabrielle)

-Jacobi and Erica Yohn as Murray and Selma, who deal with a TV that sends Murray through everything from the weather to a Huey Lewis & The News music video.

-Pfeiffer and Peter Horton as a couple given the run-around by doctor Griffin Dunne when they want to see their new baby

-Joe Pantoliano as Sy Swerdlow, who has invented a new tool for the balding man

-B.B. King begging us to donate money to "Blacks Without Soul", most especially Don "No Soul" Simmons (Grier), who turns his affliction into a great career, with covers of songs from "Chim Chim Cheree" to Three Dog Night's "Joy To The World"

-Arquette and Steve Guttenberg in a prescient segment about how your history will catch up to you if you're not careful

-Silva as the host of a show that brings new ideas to the surface (you won't believe the real identity of Jack The Ripper)

-The death of the pathetic Harvey Pitnik (Archie Hahn), and the subsequent funeral that becomes a roast (Rip Taylor: "Harvey, the President couldn't be here tonight so he sends a wire [producing a wire hanger]. This is it, folks, I don't dance!")

-Ed Begley Jr. in an "Invisible Man" sequel

-Matt Adler, Kelly Preston, Ralph Bellamy and Howard Hesseman in the tale of how a young boy's journey into manhood brings him unwanted fame and fortune

-Marc McClure, Corinne Wahl and Andrew "Dice" Clay in an examination of a video date that ends in a murder-suicide and a frame-up.

It all ends with Don Simmons' rendition of "Blame It On The Bossa Nova" and an additional homage to the campy health class shorts of the 40s and 50s starring Carrie Fisher and Paul Bartel.

This movie is delightfully silly, with humor that ranges from dark ("Video Date") to randy (Taryn Steele) to simply off-the-wall (The Baby), as executed by a cast of seemingly half the actors working in Hollywood in 1987.
Author:
John Edward Kilduff
Update This Review
Verdict
The movie is goofy, and not to be taken heavily. It's a frothy, frenetic wise-acre comedy that is the best of the non-ZAZ spoofs. I rate this as a 9.
Good jokes, many funny performances...

A few jokes miss their target and drag on, but for the most part, they're flawless...
Rewind Rating
The Movie Data
Key Crew
Director: Carl Gottlieb, Joe Dante, John Landis, Robert K. Weiss, Peter Horton
Writer: Michael Barrie, Jim Mulholland
Producers: George Folsey Jr., Robb Idels, John Landis, Kevin Marcy, Robert K. Weiss
Locations Manager: Pamela Morrow, Rick Rothen
Update The Crew
Data
Release Date: 18 Sep 1987
MPAA Rating: R
Studio: Universal Pictures
Production: Universal Pictures, Westward Productions
Genre: Comedy
Update The Data
The Movie Trailer
Jump To: Music & Soundtrack Vibes
Or use the menu to navigate
1987 Universal Pictures
1999-2020 fast-rewind.com
V4_27 Powered by Rewind C21 CMS