REWIND
REVIEW

"
The Race Is With Yourself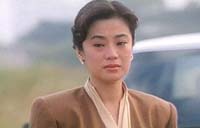 Starring
Yun Fat Chow, Sylvia Chang, Kwan Yuen Wong, Man Tat Ng
All About Ah Long was written by Sylvia Chang and Chow Yun-Fat. This is the first of his major writing credits, the other being on "Peace Hotel".
More Trivia from All About Ah Long
Review
Chow Yun Fat, in one of the most challenging roles of his career, plays professional biker Yeung Ah Long: a man whose disillusionment with life leads him down the path of casual infidelity, alcoholism and the altogether unforgivable practice of domestic violence (he beats up his girlfriend who's expecting a child).

Yeung gets his celestial come-uppance when he's badly injured in a motorcycle crash whilst trying to outrun the cops, Yeung Ah Long gets sent to prison, learns that he'll no longer be able to race bikes and that his girlfriend Sylvia 'PorPor' Poon (Chang) has moved to the States...

Yeung, who used to be a contender in the motorcycle circuits, is reduced to driving a truck on a quarried building site, he's content with being a nobody, up until he discovers that his ex-girlfriend had a child by him, and that the kid has been in an orphanage for the past 10 years, Yeung seeks out his son in a veiled attempt to (excuse the pun) kick-start his long overdue redemption.

But this ain't Capra folks and though Yeung has his son, who is more important than anything, he now has to try and raise him back in the wretched slums of colonial Hong Kong.

All About Ah Long's original, eastern title is "You jian A Lang"
Author:
Kashif Ahmed
Update This Review
Verdict
A powerful human drama, bought to life in a stirring haze of mood and method; with faultless performances by both Yun and Sylvia. All About Ah Long is an unflinching look at the lives of people who are trying to make it day by day.

It's about a main character whose as 'real' as the oppressive conditions that surround him, with moments of unspoken satire (re: Yeung and PorPor's chance meeting), searing emotion coming into conflict with personal progression and the whole love/hate between Yeung and Sylvia this is a cut above your average 'people movie.' be sure to note Yun's trademark pathos at the Motorcycle Grand Prix and since the movie is so serious; check out Yun's mullet hairstyle for a laugh!

Another film which proves that Chow Yun Fat is an excellent actor in his own right, a master of method and a true artist who can, and will, play any kind of role. Not an easy film to watch, but one that you'll get drawn into, a movie that'll hold your attention (if only because of the fine acting) time and time again.
Great acting, simple but effective story.
A truely excellent Chow Yun Fat performace with strong support by Chang.

harsh and too realistic, story can be a little contrived at times
Rewind Rating
The Movie Data
Key Crew
Director: Johnny To
Writer: Sylvia Chang, Yun-Fat Chow, Philip Cheng
Producers: Ise Cheng, Catherine Hun, Ken Ng, Bak-Ming Wong
Locations Manager:
Update The Crew
The Movie Trailer
Jump To: Music & Soundtrack Vibes
Or use the menu to navigate
1989
1999-2020 fast-rewind.com
V4_27 Powered by Rewind C21 CMS