REWIND
REVIEW

"
Just when you thought it safe to go back into the departure lounge.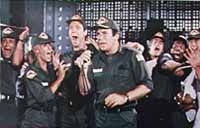 Starring
Robert Hays, Julie Hagerty, Lloyd Bridges, Chad Everett
Peter Graves, Chuck Connors, William Shatner, Raymond Burr, Craig Berenson, Sonny Bono, John Dehner, Laurene Landon, Kent McCord, Lee Purcell, Stephen Stucker, Rip Torn, John Vernon, James A. Watson Jr., Al White Update Cast
Cameos
Look for Art Fleming making a cameo appearance!
This film was created with the obligation that its creative team return for a third installment. Expectations were so high that the next film was promised at the end of the credits of this one. When the film was released to mediocre box office sales, plans for Airplane III were cancelled but the ad remains in most prints.
More Trivia from Airplane II: The Sequel
Review
Without the involvement of Jerry Zucker, Jim Abrahams, and David Zucker, this sequel should have been a disaster, right? This should have been a studio-ordered disaster that ruined the legacy of the original AIRPLANE...

...Actually, it's quite funny.

Picking up where the first AIRPLANE left off, we meet Ted Striker again, having lost Elaine....again and now institutionalized at the Ronald Reagan Home for the Mentally Ill. However, he's not mentally ill, you and I both know that, he's there as part of a cover-up.

You see, Ted, after test-flying a new passenger shuttle called the Mayflower One, found it was unsafe. In order to save money and launch on the exact date, a lawsuit is brought against Ted and he is declared legally incompetent.

Ted may have had a point with the whole "unsafe" thing, as after the launch, the ship's computer, ROK 9000, develops a mind of its own and sets the ship on a crash course for the sun. With the co-pilot and navigator ejected (leading to a funny parody of two entirely different scenes from 2001: A SPACE ODYSSEY), and Captain Oveur (Peter Graves, reprising his role) gassed trying to deactivate ROK, it's up to Ted, who has escaped, to try and deactivate ROK and land the shuttle. He also has to deal with a impotent mad bomber (Sonny Bono), Elaine's fiancee, who is a member of the flight crew, and the fact that the shuttle is completely out of coffee. All the while, he's assisted by Steve McCroskey (Lloyd Bridges, reprising his role), The Sarge (Chuck Connors), and Commander Buck Murdock (William 'The Shat' Shatner).

Highlights include a mother checking her baby in to be stowed in the hold when told she can only bring one item on board, a man trying to shave with a straight-razor as the shuttle descends, a game of Jeopardy played on board (with original host Art Fleming in a cameo) with the category of "Famous Airline Disasters," an impotency clinic called the Des Moines Institute that several characters are oddly familiar with, and a cameo by "Love Boat" theme singer Jack Jones in one of the funniest bits in the film.

New writer/director Ken Finkleman (writer of GREASE 2. Whether or not that's a good thing is up to you) does an admirable job of stepping up to the plate for ZAZ. He does rehash some gags from the original, but manages to come up with some original ones as well.

Among our returning players are Robert Hays (Ted), Julie Hagerty (Elaine), Lloyd Bridges (McCroskey), Stephen Stucker (Controller Jacobs, or Johnny Hinshaw under a new name), Al White (one of the Jive Dudes), Frank Ashmore (Victor Basta in the original, now a controller in the sequel), and Lee Bryant (Mrs. Hammen), among others.
Author:
Kyle Palkowski
Update This Review
Verdict
A sequel that is just as good and funny as the original.

Ken Finkleman does an admirable job of keeping the "play it straight" tone of the original, and comes up with some good gags. Everyone was game to do another movie, and that shows in their performances.

Then again, how could you hate a movie where William Shatner is at his overacting best?
The returning players, the writing and direction, the sheer amount of funny gags.

Didn't see any.
Rewind Rating
The Movie Data
Jump To: Music & Soundtrack Vibes
Or use the menu to navigate
1982 Paramount Pictures
1999-2020 fast-rewind.com
V4_27 Powered by Rewind C21 CMS