REWIND
REVIEW

"
A Little Fun Goes A Long Way...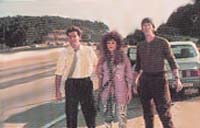 Starring
Charlie Sheen, Kerri Green, Alan Ruck, Sally Kellerman
Review
Three for the Road is another classic example of an easy to watch, fun 80's flick that defined the times. The film stars Charlie Sheen, fresh off the boat in "Platoon" as well as Alan Ruck, most memorable as Cameron in "Ferris Bueller's Day Off".

In the film, Paul, played by Sheen, is an up and coming politician wannabe who, in an effort to score points with the Senator he works for, agrees to deliver the senator's rebellious daughter, Robin (Kerri Green), to a reform school in the deep south. Paul's philisophical pal, T.S. (Ruck) sees the trip as a potential for love and adventure, and tags along.

At first, Robin seems to have serious disipline problems, is hard to handle, and constantly tries Paul's patience. But underneath her tough veneer, Robin ultimately proves to be the victim of an abusive and cold family life. Paul rethinks his admiration for the senator, and the reasons for his own ambitions.

Along the way, the trio encounter many zany people, including a bible thumping trucker, a sketchy novelty gift salesman, and a mentally challenged jock with a prized Porsche. Despite their wacky and sometimes dangerous adventures, Paul and T.S. manage to find love on their road-trip.

Kerri Green puts in a quite hilarious performance as Robin, the supposed miscreant. Sally Kellerman does well as Robin's estranged mother, and it's always good to see her on screen as opposed to her more volumnous voice-over work.

While this movie received little attention during its run in theaters, it stands out as a fun and charming road trip movie. Not only does the cast seem to relish their roles and play well off of each other, but the feel of the movie is comforting to those who enjoy 80's feel good movies.

Three for the Road is a great example of smaller 80's films. While it lacks the John Hughes polish, it's a funny and cute movie that will keep you entertained throughout its 98 minute run time.
Author:
Monica Salazar
Update This Review
Verdict
While lacking the finesse of other 80's teen films, "Three for the Road" delivers with a cute and consistent story.
'Road trip' film, good lead acting, plot.

Occasional overdone acting and jokes.
Rewind Rating
The Movie Data
Jump To: Music & Soundtrack Vibes
Or use the menu to navigate
1987 Vista Entertainment
1999-2020 fast-rewind.com
V4_27 Powered by Rewind C21 CMS