Valley


Dated Julie From 'Valley Girl' (allegedly!)
Member # 1322





22 Updates!

Member Rated:


posted





---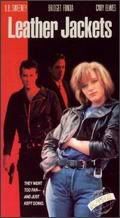 So I should've known by the title that "Leather Jackets" would be rather bizarre.  I've always been a D. B. Sweeney fan, but while watching this movie I realized that Cary Elwes and Bridget Fonda were the real stars of the film. I actually saw pieces of this movie years ago..

Here's the plot:

Claudia, a girl who gets around, finally lands her dream man in Mickey. However, Mickey's friend Dobbs spoils their nuptial plans when the thugs of a Vietnamese gangster that he has robbed, come looking for him. In order to save Dobbs, Mickey and Claudia, hide him in the boot of their car as they take off to LA. Things don't go as smoothly as planned, and Mickey finds out more about his fiancée than he ever needs to know. ~ imdb

"Leather Jackets" is extremely violent and majorly depressing to watch, but the performances of the three main characters make it worth your time.  

The scene in the car when Claudia is forced to tell Mickey about her past with Dobbs is tragic, but brilliant.  The ending is not the norm ..
---
Posts: 7845 | From: Smiling and glancing in awe in the back of a limo | Registered: Mar 2003 | Site Updates: 22 | IP: Logged |