JAY LEE
Rewind Jedi
Member # 6345





3 Updates!

Member Rated:


posted





---
NO RETREAT, NO SURRENDER III- BLOOD BROTHERS 1989 (Released 1990)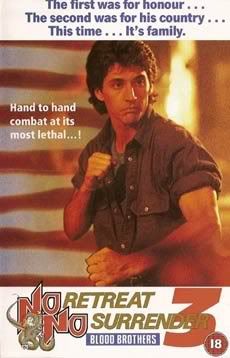 SYNOPSIS:

Will and Casey Alexander, two brothers, feuding over different political views, are forced to team up, when their father is killed by an evil terrorist organization, lead by the cold blooded Franco. Will goes inside the organization, posing as a terrorist, while Casey keeps a close eye from the outside. But when Casey and his girlfriend is captured, Will is exposed, and forced to take an african politician hostage. Now, the Alexander boys will have to use all their cunning and martial arts skills, to avoid an international incident, and bring the evil Franco and his organization down.


TRIBUTE RANT:

The third and final installment in the NO RETREAT, NO SURRENDER series of Seasonal crossover flicks, made primarily by Hong Kong crew, for the western market, and what a way to go out. To call this movie cheesy, would be an understatement. It is a fine piece of Stilton, served with a slice of hammy acting, a side of corny dialouge and a bite size portion of juicy fights… bon appetit.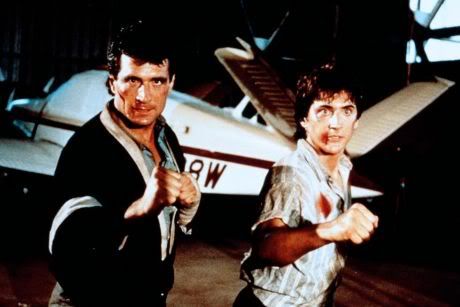 The script was written by Keith Strandberg, who also wrote the two previous films in the series, so plotholes, campy one liners and illogical set ups, present and accounted for. First time director, Lucas Lowe took over the reins from Cory Yuen here, and would later go on to helm such martial arts B-movie classics as THE KING OF THE KICKBOXERS and AMERICAN SHAOLIN. So with those credits established, you pretty much know what you're getting into.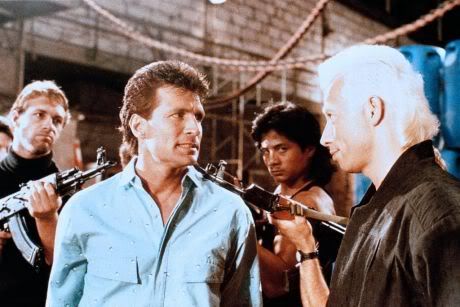 Loren Avedon returns from part 2, although as a completely different character, and teams up with Keith Vitali here, playing feuding brothers, while giving a course in bad acting 101. Avedon's futile attempts at conveying emotion of any kind, makes him look constipated, more than anything else, and Vitali just comes across as smarmy and slightly retarded, combing his hair every two seconds, and talking to himself out loud, in true daytime soap opera fashion. As for the supporting cast, they wont be getting any thespian awards either. Wanda Acuna is hot as hell, appearing in various states of undress, but couldn't act to save her life. Rion Hunter is actually cool and menacing as the albino looking villain, but fairly cartoonish in all his evil glory, and the rest of the actors seem to be reading from cue cards.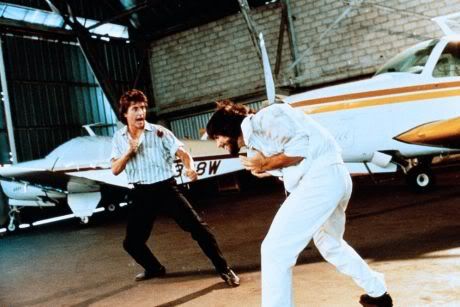 But, again, it's the energy, enthusiasm, physicality and heavy 80's vibe, that sustains the movie from start to finish. While the first entry was a KARATE KID cash-in, the second a RAMBO clone, this one is cut more from the cloth of your straight up american martial arts, action flick, in the vein of what Norris or Seagal was doing at the time. But believe me, Norris or Seagal never looked this good in action. Tony Leung Siu Hung's hardcore, Hong Kong style fight choreography is a treat to watch. Avedon, Vitali and Hunter all look great in the intricate fight scenes, and the stuntmen certainly earned their pay in all the bone crunching mayhem that, in terms of quality, are way above the movie itself. But I guess that is sort of the trademark of the trilogy.




These movies were no cinematic masterpieces, and may not have made it further than the local video store. But the pairing of american actors and Hong Kong action, is what made them cult classics, and rental favourites across the globe. In short, the action is great. The rest is low budget, B-movie schlock, that will make you laugh out loud. So just have fun with it, that's what it's there for. Even if that wasn't the original intention.
---
Posts: 1278 | From: Denmark,Europe | Registered: Dec 2007 | Site Updates: 3 | IP: Logged |