FILMFACTS
TRIVIA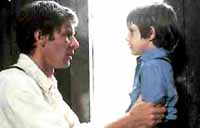 Totally Trivia
Film facts for the 1985 Drama movie starring Harrison Ford, Kelly McGillis, Alexander Godunov More Cast
We believe the following trivia is all legit. If it's bogus or you have additional info, please update us.
Danny Glover had a small part as one of the villain cops who commits the murder in the beginnning of the movie and is one of the three who hunts Ford down at the Amish farm.
Rachel Gets on the train in Lancaster, which is 90 mins from Baltimore. People have wondered why would they head to Philadelphia when Amtrak runs to Baltimore from Lancaster?

Steve Coulson kindly wrote in to say that the answer is that there is no train that runs directly from Lancaster to Baltimore. Travelers would typically take the train from Lancaster to Philadelphia and make a connection on to Baltimore, so it does make perfect sense.
Director Peter Weir's films often portray characters in unfamiliar surroundings.
Thanks to
Santiago Velasquez
Alexander Godunov, who played Daniel, Harrison Ford's Amish rival, started off as an amazingly talented ballet dancer. One of his classmates and friends at the Riga Ballet school in Russia was Mikhail Baryshnikov. After graduating he toured with the Moscow Classical Ballet. In 1973 he won a gold medal at the Moscow International Competition. In August 1979 he defected from the USSR. The story grew in importance when his ballerina wife returned to the USSR a few days later. He joined the American Ballet Theater and danced with it until 1982 when he and its director Baryshnikov had a falling out. He was, by then, a frequent companion of Jacqueline Bisset. Sadly, Godunov, who also played excellent parts in "Die Hard" and "The Money Pit" died in May of 1995 of natural causes. He was 46 years old.
In 1985, Book had to ride into town to use a telephone and that would have been true at the time.

Today, most Amish farms apparently do have telephones as it is almost impossible to run a profitable farm without one. But it must be in the barn or outside the house -and must not be used for any non-business or non-emergency calls.

Other things that are vital for business, including running water, or even the internet are often viewed more leniently today as long as they are kept and used outside the house.

Basically, it remains that nothing must physically connect the house to the outside world.
Watch for the young Viggo Mortensen (Lord of the Rings) who plays Moses Hochlightner in "Witness".
I would like to know what the triangular thing was that was moving in front of the house? The boy explained the water wheel, but not what that was. I grew up on a farm and never saw one. By the way, the water wheel, which was made just for the movie, would never have made enough pressure to run the regular faucets seen inside the home. Thanks to whoever answers what the triangle thing is.
Jan Rubes, who played old Eli Lapp was actually an accomplished opera singer from Czechoslovakia. He had been the youngest basso singer with the Prague Opera before moving to Canada. At the time, he had very little movie acting experience -a fact that was true for several other key actors in this movie too.
I just returned from a trip to Lancaster PA. I love this movie and to see a piece of it was truly thrilling. I now have photos of the infamous "Zimmermans" pay phone. I struck up a conversation with a lovely man who has worked at Zimmermans for over 20 years. We were chatting at the back parking lot and he showed me where they used to have the 3 trailors set up. He said they would eat in a kitchen in the trailer. And pointed out that the tree I was leaning against, was where Harrison Ford would sit and rest in the shade between takes. That was so cool to me! He also mentioned that the Amish were not at all pleased. He said it was really quite a production to film. Many trailors and crews and noise. It was very disruptive especially to the Amish.
Danny Glover plays villain cop McFee. This is surely the role that catapaulted him into the big time. That same year he had another great role in "The Color Purple" and just two years later would star in "Lethal Weapon" alongside Mel Gibson...
Bogus Trivia
There's often fake stuff floating round, y'know? -Like the 'ghost boy' that can allegedly be seen in "Three Men And A Baby".
But, nothing bogus that we know yet for "Witness".
Next: Behind The Scenes
Or use the menu to select another option
1985 Paramount Pictures
1999-2018 fast-rewind.com
V4.0b Powered by Rewind C21 CMS