FILMFACTS
TRIVIA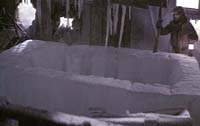 Totally Trivia
Film facts for the 1982 Sci-Fi movie starring Kurt Russell, Wilford Brimley, T.K. Carter More Cast
We believe the following trivia is all legit. If it's bogus or you have additional info, please update us.
The thing is one of a select few movies to have no women on the screen throughout.
Actor Keith David can also be seen in another John Carpenter movie called "They Live". Kurt Russell starred in another three of John Carpenter movies: "Escape from New York", "Big Trouble in Little China", and "Escape from L.A".
Thanks to
Rogério Barbosa
The Norwegian that is chasing the dog in the beginning was played by Larry Franco. This was also when John Carpenter decided to learn to fly helicopters.
John Carpenter makes a cameo appearance in the "Norweigan Video Footage".
The only female 'character' is the voice of the computer that continually beats MacReady in chess. MacReady short circuits the "bitch" by pouring scotch into the machine's workings.
There are several topics of debate among the film's fans, such as whether or not Childs is a 'thing' and whether or not a character who has turned into a 'thing' is actually aware of it.
Kurt Russell was a finalist for the role of Han Solo in the original Star Wars.
Character actor Richard Masur (Clark the dog handler) can also be seen in the movie 'Nightmares' (in the 'Night of the Rat' segment) and in the film 'Encino Man' (as Sean Astin's father).
The title sequence of the original 'The Thing' can be seen in John Carpenters' Halloween when Lori is baby-sitting Tommy. This occured 4 years prior to John Carpenter directing the remake.
The film was 'sequeled' in the form of a video game released in 2000.
You may notice two names in this movie that appear together in another movie: Kurt Russell played MacReady in this movie, and the name of another one of the characters was "Copper". Kurt Russell also played the voice of the adult "Copper" in the movie "The Fox & The Hound" in 1980.
The names of two principal characters in the film are also the names of the two major computer platforms: 'Mac' (Kurt Russell) & 'Windows' (Thomas Waites).
Bogus Trivia
There's often fake stuff floating round, y'know? -Like the 'ghost boy' that can allegedly be seen in "Three Men And A Baby".
But, nothing bogus that we know yet for "The Thing".
Next: Behind The Scenes
Or use the menu to select another option
1982 Universal Studios
1999-2018 fast-rewind.com
V4.0b Powered by Rewind C21 CMS