FILMFACTS
TRIVIA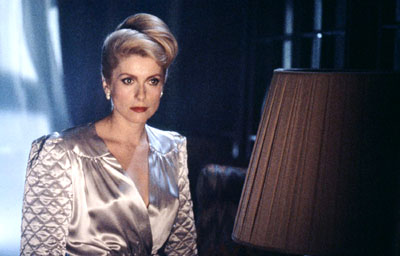 Totally Trivia
Film facts for the 1983 Horror / Occult movie starring David Bowie, Catherine Deneuve, Susan Sarandon More Cast
We believe the following trivia is all legit. If it's bogus or you have additional info, please update us.
The youth interrupting Sarandon in the phone booth is Willem Dafoe, later to star with her in "Light Sleeper".
The girl killed in the opening sequence is popular performance artist Ann Magnuson.
The screenplay for The Hunger was based on a novel of the same name by Whitley Strieber who wrote another horror novel treating the subject of werewolves in the same unconventional way he did vampires in The Hunger. This book was made into the film "Wolfen".
The book makes it clear (but the movie does not) that Miriam Blaylock is not human. She is of another species which evolved as the perfect predator, who blend in with their prey (human kind). The book does a great job of weaving in vampire myths and explaining how they came to be. For example, when Miriam's species sleeps, they enter a comatose state and cannot wake for six hours (the deep sleep is why they don't age). At this time they are completely vulnerable to attack by humans. In Eastern Europe in the middle ages (Transylvania), when humankind began to realize that Miriam's species existed, Miriam's species was sometimes forced to sleep in cemeteries for protection, knowing that humans were too superstitious to enter them at night. When they would arise in the morning and leave the cemetery, humans who saw them would assume that they were undead and rising from the grave.
The book has a completely different ending. Miriam survives but Sarah does not and, in the last scene, Miriam is walking the streets of San Francisco, noting how comforting it is in the afternoon when she can travel under cover of fog.
This was director Tony Scott's Hollywood film debut. He repaid the opportunity in 1997 by directing an episode of the the TV series of "The Hunger".
The 2nd fellow at the phone booth after Willem Dafoe is John Pankow, who starred with Dafoe in 'To Live and Die in LA' another 80's cult classic.
The girl who plays Alice Cavender, Miriam and John's music student, is played by Beth Ehlers who is the main character Harley on "The Guiding Light".
The opening scene featured British band 'Bauhaus's' lead singer, Pete Murphy.
Bogus Trivia
There's often fake stuff floating round, y'know? -Like the 'ghost boy' that can allegedly be seen in "Three Men And A Baby".
But, nothing bogus that we know yet for "The Hunger".
Next: Behind The Scenes
Or use the menu to select another option
1983 MGM/UA
1999-2018 fast-rewind.com
V4.0b Powered by Rewind C21 CMS