FILMFACTS
TRIVIA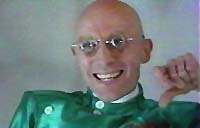 Totally Trivia
Film facts for the 1981 Comedy movie starring Jessica Harper, Cliff De Young, Richard O'Brien More Cast
We believe the following trivia is all legit. If it's bogus or you have additional info, please update us.
By the conclusion of the opening theme music every single character (and, therefore actor) has made an on screen appearance, although Farley's was in silhouette.
Jessica Harper (Janet) who starred in Phantom of the Paradise in 1975, is a huge star in the gay community. She is currently recording albums of children's music. Ruby Wax, also a gay icon, has her own talk show in the UK. Rik Mayall is a sitcom star in the UK and also starred in Drop Dead Fred. Barry Humphries, better known as cross-dressing talk show host Dame Edna, also appeared in Spice World with Rocky Horror alumni Richard O'Brien and Meatloaf.
During her "date" with Judge Oliver Wright, Betty Hapschatt reads aloud the Rime of the Ancient Mariner in its entirity (we only hear the first and last stanzas). As she finishes, Vance throws on a light switch and produces a dead albatross - a direct reference to the poem.
The items on Bert Schnick's nightstand include a framed photo of Siegmund Freud and a bottle of Sominex pills.
In the opening sequence of the film, a figure can be seen under the staircase, talking on the phone. That's Sal Piro, president of the Rocky Horror fan club.
Thanks to
Mark James Miller
Shock Treatment had it's official premier as a Midnight movie. The location was choosen as Fresno California at the UA Cinemas on Blackstone Ave., where it also test marketed. This was due to the very large Rocky Horror following yet low profile city. The Premier, complete with red carpet, search lights and media photographers, included special guests, Producers, Michael White, Lou Adler and other Fox Executives as well as it's star, Richard O'Brien. Geared towards audience participation this time, unlike the original Rocky Horror Picture Show, Shock Treatment fans started dressing in character and performing right away. Fans in Fresno are credited as being the very first to dress and perform at a showing of Shock Treatment. The Fan Performance Group "Creatures of the Night, the Original Freno Rocky Review" Had costumes prepared prior to the movie's premier, having been invited to an advanced screening at the twentieth Century Fox Film Studios and recieving press packets that included photos.
Rik Mayall has a small singing and dancing part as Cosmo's assistant Ricky. His american accent is not even that bad. He also worked on The Young Ones and Bottom.
Bogus Trivia
There's often fake stuff floating round, y'know? -Like the 'ghost boy' that can allegedly be seen in "Three Men And A Baby".
But, nothing bogus that we know yet for "Shock Treatment".
Next: Behind The Scenes
Or use the menu to select another option
1981 20th Century Fox
1999-2018 fast-rewind.com
V4.0b Powered by Rewind C21 CMS