FILMFACTS
TRIVIA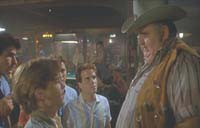 Totally Trivia
Film facts for the 1982 Comedy movie starring Dan Monahan, Wyatt Knight, Tony Ganios More Cast
We believe the following trivia is all legit. If it's bogus or you have additional info, please update us.
Thanks to
Christine Gieseke
Believe it or not, director Bob Clark also directed A Christmas Story. In fact, studios didn't want to produce it but allowed Clark to make it so he would do another Porky's movie.
As of mid-1999, this was still the highest-grossing movie made in Canada.
Typecast? Kim Cattrall (Honeywell) plays yet another sex-raving role in "Sex And The City".
This is Kim Cattrell's first nude scene and maybe her only one up until she did 'Sex and the city'. Some may argue she did a nude scene in 'Live Nude Girls' but she was wearing a teddy for that love scene.
Former football player Alex Kerras, who played Porky's Brother (the police man) and Susan Clark, who played the hooker (married to the black man supposedly) are the famous on-duel couple of "Webster": and for those who don't know are a real life couple. They met on the set of TV movie 'Babe' and are very often are seen together on screen.
One of the top collector pinball machines is a game called "NIP IT".. produced by BALLY in 1969-1970. In the climatic scene... when the boys from ANGEL BEACH pull PORKY'S down, look closely as the place collaspses into the water: there is a "NIP IT" pinball machine sitting on the deck and low and behold, goes right into the water along with the rest of PORKY'S!
The sexy thin girl Wendy was played by Kaki Hunter. Kaki currently resides in Moab, Utah where she is white water rafting instructor and is also involved with earth bag building. She has written a book about it. I have talked with her on several occasions, and she is very open about her experience with the Porky's Triology.
Bob Clark is perhaps best known for "A Christmas Story," but also made the 1974 shocker "Black Christmas," considered by many to be a modern horror classic.
Bogus Trivia
There's often fake stuff floating round, y'know? -Like the 'ghost boy' that can allegedly be seen in "Three Men And A Baby".
But, nothing bogus that we know yet for "Porky's".
Next: Behind The Scenes
Or use the menu to select another option
1982 20th Century Fox
1999-2018 fast-rewind.com
V4.0b Powered by Rewind C21 CMS