FILMFACTS
TRIVIA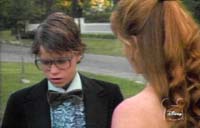 Totally Trivia
Film facts for the 1986 Teen Drama movie starring Corey Haim, Kerri Green, Charlie Sheen More Cast
We believe the following trivia is all legit. If it's bogus or you have additional info, please update us.
Writer/director, David Seltzer, after studying speech at Northwestern University, started out working as an assistant on New York game shows such as "I've Got a Secret". Seltzer found searching for contestants "creatively liberating", saying "I could invent any kind of crazy character in my mind and prove that there was some guy really doing it".

An animal lover, Seltzer moved to Los Angeles to work in documentaries for David Wolper, National Geographic and Jacques Cousteau. His first full length script was the psychedelic insect documentary "The Hellstrom Chronicle".

Next Seltzer helped out a harried producer by doing uncredited rewrites during the filming of "Willie Wonka and the Chocolate Factory". This led to the chance to write the script for 1972`s "One is a Lonely Number", from an acclaimed Rebecca Morris short story. (The movie sadly flopped.)

Frustrated by other director's use of his material, Seltzer finally asked that he be given the chance to direct one of his scripts. When he got several turn-downs he was dismayed.

"I knew that if I was 22 years old with no experience whatsoever and walked in with a screenplay everybody loved I'd be hired in an instant. In fact, I was 42 and known as a writer, so I was disqualified".

But finally, in 1985, Twentieth Century-Fox's Lawrence Gordon gave him the chance to direct "Lucas", which he had written based on his own experiences growing up...
Lucas was filmed at Will & Grace star 'Sean Hayes' (Jack) High School, he's apparently is an extra in the movie.

Sean Hayes was a 1988 graduate of Glenbard West. This was the principal location for most of the High School shots.
Lucas grossed 8.2 million during it's theatrical release. It apparently wasn't considered a great success.
A parody of Lucas' "fumble" scene appears in "Not Another Tean Movie." Reynaldo Villalobos was Director of Photography for both films!
Thanks to
Jennifer Jackson
Tom Hodges who played Bruno, the guy picking on Lucas, was a Glenbard West alumni. He went on to play Rich in the Hogan Family.
Corey Haim's sister was in the choir scene right next to Winona Ryder.
The movie "Lucas" as we know was set in Glen Ellyn,IL and filmed at Glenbard West. Many scenes involve the railroad and the former Chicago Northwestern Railroad/Metra West line, which runs from Chicago's Union Station all the way to St. Charles (Metra) and Clinton, Iowa for the CNW freight. The line shown in the movie is the 1st Transcontinental Railroad and one of only 3 movies that the Chicago and Northwestern Railroad is filmed. The CNW West line was a major historical railroad. Now owned by the Union Pacific Railroad, the line and stations along the line still exist. Just a piece of information that links the movie Lucas with some historical aspects of Glen Ellyn and the Chicago Northwestern Railroad.
Kerri Green stars in the film "The Goonies" with Corey Feldman.
The "Glen" Theater in the movie was where they held the "premiere" of Lucas after it was completed.
There were 3 taglines for the film: 1.) "There's nothing wrong with being different." 2.) "It's about falling in love... For the 1st time." 3.) "A boy that just won't be beaten". The movie has also been marketed with the tagline "There's a little bit of Lucas in all of us".
Cast party was held on Navy Pier. The Homewood-Flossmoor choir was the only group outside the cast that was invited. Charlie Sheen made his rounds with the choirs females, while one of the male choir memebers had a kissing session with Winona.
Bogus Trivia
There's often fake stuff floating round, y'know? -Like the 'ghost boy' that can allegedly be seen in "Three Men And A Baby".
But, nothing bogus that we know yet for "Lucas".
Next: Behind The Scenes
Or use the menu to select another option
1986 20th Century Fox
1999-2018 fast-rewind.com
V4.0b Powered by Rewind C21 CMS