FILMFACTS
TRIVIA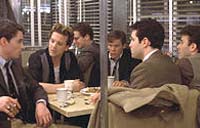 Totally Trivia
Film facts for the 1982 Comedy movie starring Paul Reiser, Timothy Daly, Kevin Bacon More Cast
We believe the following trivia is all legit. If it's bogus or you have additional info, please update us.
Barry Levinson later directed "Original Diner Guys" (1999), a documentary about the lives of the actual individuals upon whom he loosely based the Diner characters.
Mickey Rourke reminds us that he used to be cool, and could act as well: For a while, Mickey "Raging Bull" Rourke decided it would be good if he became a boxer... Thankfully the man has since returned to movies.
Paul Reiser found fame in 80s sitcom "My Two Dads" and appeared as 'Jeffery' in both "Beverly Hills Cop" movies.
Diner is loosely based on Barry Levinson's life in his hometown of Baltimore.
Ayre Gross was a guest star in an episode of "Friends" where he's set up with Rachael (who gets drunk as the evening progresses) when asked if he's bored Ayre replies "...no, but thatís only because I've been playing the move 'Diner' in my head for the past 2 hours" --Ayre Gross has a brief (blink-and-you-miss-him) cameo in the opening prom scene.
There was a pilot episode made a year later for an intended spin-off series, which would show how their lives changed after they became more responsible; Paul Reiser returned as Modell, whilst a very young James Spader took over Kevin Bacon's role as Fenwick.
According to Barry Levinson, talking at a 30th year anniversary conversation in Baltimore, Reiser's "nuance" monologue in the movie was his own addition after Levinson made the comment to him, "I don't think your character likes nuance."
Modell (Paul Reiser) whilst talking to Boogie at one stage says 'You know what word I'm not comfortable with, Nuance,...' Paul Reiser's production company (the company behind 'Mad about You') is called Nuance Productions...
Mickey Rourke's part Boogie, is based on Levinson's childhood friend Leonard "Boogie" Weinglass, who became the Chairman of the once successful and ultimately failing Hip Hop clothing chain "Merry-Go-Round."
When Ellen Barkin first got the script from her agent, she threw it in the trash. Her agent talked her into giving it a chance. (Revealed at the 30th anniversary conversation in Baltimore)
Bogus Trivia
There's often fake stuff floating round, y'know? -Like the 'ghost boy' that can allegedly be seen in "Three Men And A Baby".
But, nothing bogus that we know yet for "Diner".
Next: Behind The Scenes
Or use the menu to select another option
1982 Warner Bros
1999-2018 fast-rewind.com
V4.0b Powered by Rewind C21 CMS