Songs
Another eclectic mix of mainly obscure 80's Brit pop (of which John Hughes was a big fan)
The following song tracks were featured in
Weird Science
:
Track names in Bold are linked to a Soundtrack release.
Weird Science - Oingo Boingo
Private Joy - Cheyne
The Circle - Max Carl
Turn It On - Kim Wilde
Deep In The Jungle - Wall Of Voodoo
Do Not Disturb-Knock,Knock - The Broken Homes
Forever - Taxxi
(Why Don't Pretty Girls) Look At Me - Wild Men On Wonga
Method To My Madness - Lords Of The New Church
Eighties - Killing Joke
Gloria - Patti Smith
Tenderness - General Public
Tubular Bells - Mike Oldfield
Are We Missing Any?
Song Trivia

In the original release of Weird Science in the '80s, the mall scene where Max (Robert Rusler) and Ian (Robert Downey, Jr.) spot Lisa (Kelly LeBrock) for the first time going up the escalator had Van Halen's "(Oh) Pretty Woman" playing. However, on the video/DVD release, it's replaced by Oingo Boingo's "Weird Science."
-Thanks to Dave Wilson
Oingo Boingo, who did the title theme 'Weird Science', are actually Danny Elfman's band. Danny Elfman is the distinctive score composer closely associated with Tim Burton.
-Thanks to Will Weaver
During the final scene of the original theatrical release, the theme song for Rocky is playing as Lisa tells the gym class to "drop and give me twenty", but in the re-release, it was replaced with Oingo Boingo's 'Weird Science'...
-Thanks to Dan Renfrow
The home video version plays Oingo Boingo's 'Weird Science' as Lisa ascends the mall escalator while all other versions (theatrical and TV) play 'Pretty Woman'.
-Thanks to 80'sRocked
In the last scene at the high-school gym, the theatrical version plays the "Theme From 'Rocky'" while the home-video and TV versions play "Weird Science".
-Thanks to 80'sRocked
The new re-releases of the DVD restores the music that was cut out for the VHS versions of this movie
-Thanks to 80'sRocked
Add some more trivia about the songs used in Weird Science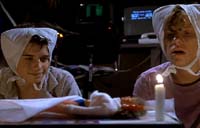 1985