Songs
An acquired taste, the soundtrack to "Trancers" by Mark Ryder and Phil Davies was available in a limited capacity in the mid 80's, and is now virtually impossible to track down.
Easier to find is the soundtrack to "Trancers 3", which was released in 1993 by Moonstone Records, and was available on CD. This soundtrack occasionally turns up on ebay, and is identical to the original in almost every respect.
Can you help with song track list for Trancers?
Song Trivia
Do you know any interesting trivia about the songs used in Trancers? Please send it in by clicking Here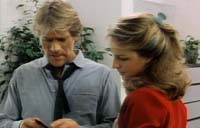 1985