Songs
Val Kilmer did the vocals on this soundtrack. Somewhat hard to find, but I found two album versions on eBay recently.
Use our search device to find a copy.
The following song tracks were featured in
Top Secret!
:
Track names in Bold are linked to a Soundtrack release.
Skeet Surfing - Val Kilmer
Are You Lonesone Tonight? - Val Kilmer
How Silly Can You Get? - Val Kilmer
Straighten Out The Rug - Val Kilmer
Tutti Frutti - Val Kilmer
Spend This Night With Me - Val Kilmer
Are We Missing Any?
Song Trivia

In the movie Top Secret, Val sings a song called 'Spend This Night With Me', which is a parody of 'It's Only Make Believe', a song made famous by Conway Twitty.
Another song included in the movie is 'Skeet Surfing' which parodies famous songs by The Beach Boys and Jan and Dean.
-Thanks to Scott Manginelli
Add some more trivia about the songs used in Top Secret!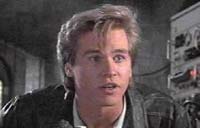 1984