Songs
Can you help with information/opinions about the choice of songs heard in The Entity? Please click Here
The following song tracks were featured in
The Entity
:
Track names in Bold are linked to a Soundtrack release.
Saturday Nite's All Right For Fighting - Elton John
You Can't Have Me - Risky Shift
Poor, Poor Pitiful Me - Linda Ronstadt
Are We Missing Any?
Song Trivia
Do you know any interesting trivia about the songs used in The Entity? Please send it in by clicking Here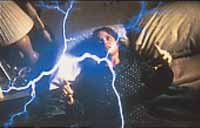 1981
Score Music
Composer(s):
Charles Bernstein
The music is a little dated but the fast, pounding theme that plays whenever the entity attacks Carla Moran is quite effective.
Can you help with any of the instrumental score track names used in The Entity?
Score Trivia

The "attack" music cue of The Entity was re-used by Tarantino in Inglorious Bast*rds when Shosanna is surprised by being introduced to Colonel Landa in the restaurant scene.
-Thanks to politeintruder
The fast pounding music when the Entity attacks is amazingly similar to Metallica's One (1988). The last 3/4 of the song, it picks up the pace and the syncopated guitar and kick drum are (pretty much) identical to the music in the film.
Add some more trivia about the instrumental music used in The Entity