Songs
The soundtrack is quite good. For some reason I found it quite memorable. The finishing song by Bad English "Best of What I Got" is your typical bouncy, congratulatory cock-rock hair-metal FM Song to play in your car with the hood down. I would imagine leaving the cinema on quite a high after watching this movie hearing this upbeat rock n roll number at the end.
The following song tracks were featured in
Tango & Cash
:
Track names in Bold are linked to a Soundtrack release.
Best of What I Got - Bad English
Let The Day Begin - The Call
Don't Go - Yazoo
Poison - Alice Cooper
It's No Crime - Babyface
Harlem Nocturne - Darktown Strutters
Are We Missing Any?
Song Trivia
Do you know any interesting trivia about the songs used in Tango & Cash? Please send it in by clicking Here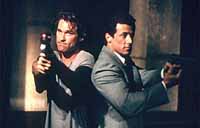 1989