Songs
Can you help with information/opinions about the choice of songs heard in Suburbia? Please click Here
The following song tracks were featured in
Suburbia
:
Track names in Bold are linked to a Soundtrack release.
Richard Hung Himself - Curt D.I.S.S.
Wash Away - T.S.O.L.
Darker My Love - T.S.O.L.
Legend of Pat Brown - The Vandals
London Calling - The Clash
No God - The Germs
Urban Struggle - The Vandals
Are We Missing Any?
Song Trivia

80's synth duo "Pet Shop Boys" released a single called "Suburbia" in 1986 which reached number 5 in the UK and was also a European hit. They are quoted in their 1988 book as saying the track and title was inspired by Penelpoe Spheeris's film. It also get's a mention on the sleevenotes.
-Thanks to Steve Broderick
Add some more trivia about the songs used in Suburbia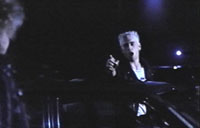 1984