Songs
Edge of Etiquette is a good name for the band making the thrash music played by the punk on the bus with its explicit lyrics. Very risque for 1986!
The following song tracks were featured in
Star Trek IV: The Voyage Home
:
Track names in Bold are linked to a Soundtrack release.
Ballad of the Whale - The Yellowjackets
I Hate You - Edge of Etiquette
Are We Missing Any?
Song Trivia

The punk rock song that Kirk Thatcher's character listens to was reused in the following year's Paramount release "Back To The Beach". Thatcher was one of that movie's producers.
-Thanks to John Edward Kilduff
Add some more trivia about the songs used in Star Trek IV: The Voyage Home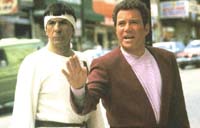 1986