Songs
In the scene where we first see the Winnebago, the song "Raise Your Hands" by Bon Jovi is playing and continues to play when they first show John Candy's Character "Barf". It did not make the soundtrack, but it was in the movie. The offical soundtrack is still awesome and just bleeds 80s. Here's a list of the tracks:
1. "Spaceballs Main Title Theme" by John Morris
2. "My Heart Has A Mind Of It's Own" by Kim Carnes & Jeffrey Osborne
3. "Heartstrings" by Berlin
4. "Spaceballs Love Theme (Instrumental)" by John Morris
5. "The Winnebago / Mega-Maid" by John Morris
6. "Spaceballs" by The Spinners
7. "Hot Together" by The Pointer Sisters
8. "Good Enough" by Van Halen
9. "Wanna Be Loved" By You by Ladyfire
Can you help with song track list for Spaceballs?
Song Trivia
Do you know any interesting trivia about the songs used in Spaceballs? Please send it in by clicking Here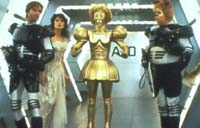 1987