Songs
The song at the end, "Joyride", is a lot of fun and a great way to close the film.
The following song tracks were featured in
Silver Bullet
:
Track names in Bold are linked to a Soundtrack release.
Joyride - Jay Chattaway, Rob. B. Mathes
Mansion of Misery - Michael Terry
All Dressed Up With Nowhere To Go - Patty Terry
Are We Missing Any?
Song Trivia
Do you know any interesting trivia about the songs used in Silver Bullet? Please send it in by clicking Here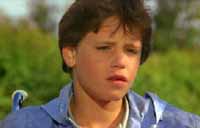 1985