VIBES
SOUNDTRACK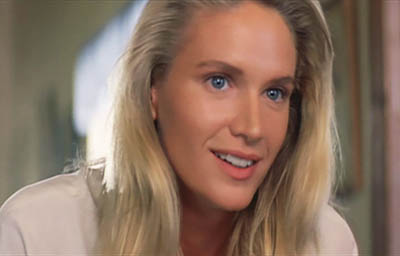 Songs
Decent combination of classic tunes and some great performances from The Jeff Healey Band who also appear in the movie. If you have never heard Healey and his ungodly talents, then this should prove a perfect introduction.

Bear in mind that he is blind and is performing those solos with the guitar flat on his knee (??!!). It is also notable for Healey's cover of the Bob Dylan tune 'When the Night Comes Falling from the Sky.'Update Us
The following song tracks were featured in Road House
highlighted
track names are linked to Soundtrack release info
Artists are linked if they appear in other featured movies.
The first track in the movie is "Don't Throw Stones" which is being performed "live" during Dalton's first bar fight. If this song sounds familiar, it's because it is being perormed by Tito Larriva, who did much of the music in Tarrantino's "From Dusk Till Dawn" (1997).
In one version of the movie The Jeff Healey Band plays "Angel Eyes" while Swayze and Lynch dance at the bar. It's a touching scene. Everytime I've seen it since this song/scene is not in the movie. I even bought it on VHS and it is not on it. I wonder why?
Next Section: The Instrumental Music
Instrumental Score
Primary Composer(s): Michael Kamen

Michael Kamen scored the dramatic storylines of Road House while performances by The Jeff Healey Band provided the prominent source music nightly at the Double Deuce, where bouncer Dalton (Patrick Swayze) tames the rowdy clientele. For most of the film's nearly two-hour running time, Kamen scores the drama and romance with an array of keyboards, guitar, drums and synthesized strings. His main theme is gentle Americana, with a feel for the outdoors. Other cues are subtler, underscoring both blossoming romance between the leads and the growing tension that builds throughout the picture, ultimately exploding in violence. Then, in a flamboyant example of dramatic film scoring, Kamen switches to a large orchestra for the climactic fight and final showdown, providing a pair of powerful orchestral action cues that add weight to the violence on screen.

There is some evidence that Kamen was originally scoring the entire picture with his smaller keyboard/guitar-based ensemble, with the climactic confrontation music being recorded initially with the small ensemble during the London scoring sessions, then again later with a large orchestra during sessions held in Los Angeles at The Burbank Studios. Quite possibly, at some point during post-production, a decision was made by the film's producers that the climactic fight scenes required more "punch" than what the small ensemble could provide, but this is not confirmed information. But it is interesting that the large orchestral music was only recorded for the final 3 reels (10, 11 and 12) of the picture.Update Us
The following instrumental score tracks were featured in Road House
highlighted
track names are linked to Soundtrack release info.
Composers are linked if they worked on other featured movies.
Know any interesting facts
about the Score used in Road House? Please
Update Us
Jump To: The Juicy Trivia!
Or use the menu to select another option
1989 United Artists
1999-2018 fast-rewind.com
V4.0b Powered by Rewind C21 CMS