Songs
Thank God for Silva Screen! [The soundtrack record label] -Not terribly easy to find but it's out there, so use our search device. Combines the original trailer music with Paul Gilreath's accomplished 80's pop rock instrumentals and of course the title track 'Stand on your Own'.
Accomplished stuff. Probably the best aspect of the whole production.
The following song tracks were featured in
No Retreat, No Surrender
:
Track names in Bold are linked to a Soundtrack release.
Stand on Your Own - Paul Gilreath
No Retreat, No Surrender Love Song - Paul Gilreath
Are We Missing Any?
Song Trivia
Do you know any interesting trivia about the songs used in No Retreat, No Surrender? Please send it in by clicking Here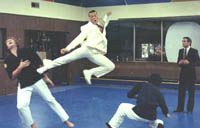 1985