Songs
Can you help with information/opinions about the choice of songs heard in The Outsiders? Please click Here
The following song tracks were featured in
The Outsiders
:
Track names in Bold are linked to a Soundtrack release.
Stay Gold - Bill Hughes
Outside In - Bill Hughes
Gloria - Van Morrison
Stay Gold - Stevie Wonder
Lend Me Your Comb - Carl Perkins
When It Rains, It Really Pours - Elvis Presley
Real Wild Child (Wild One) - Jerry Lee Lewis
Mystery Train - Elvis Presley
Out of Limits - The Marketts
Loveless Motel - R. C. Bannon
Jack Daniels If You Please - David Allan Coe
I'll Share My World With You - George Jones
Are We Missing Any?
Song Trivia

The original movie idea didn't have all these songs, so in the new version they added them, including Elvis (which the cast suggested).
Add some more trivia about the songs used in The Outsiders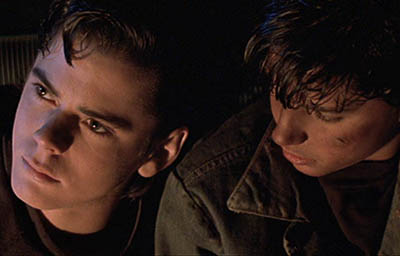 1983