Songs
Can you help with information/opinions about the choice of songs heard in A Nightmare on Elm Street 2: Freddy's Revenge? Please click Here
The following song tracks were featured in
A Nightmare on Elm Street 2: Freddy's Revenge
:
Track names in Bold are linked to a Soundtrack release.
Touch Me (All Night Long) - Fonda Rae
Are We Missing Any?
Song Trivia

The song played in Jesse's bedroom "Touch me (all night long)" is probably the best song I've ever heard in a horror film.
Apparently Cathy Dennis loved "Nightmare on Elm Street: Freddys Revenge" too. The song "Touch Me (All Night Long)" stayed at #2 on the Billboard Hot 100 for two weeks in 1992. 7 years after Jesse played air guitar with the radio in his room. It was originally done by a woman named Fonda Rea.
Add some more trivia about the songs used in A Nightmare on Elm Street 2: Freddy's Revenge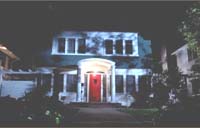 1985