Songs
The theme song is a study in arpeggio and hallmark of the 80's. It was by Limahl of "Kajagoogoo" fame. Nice soundtrack overall.
The following song tracks were featured in
The NeverEnding Story
:
Track names in Bold are linked to a Soundtrack release.
NeverEnding Story - Limahl
Are We Missing Any?
Song Trivia

There is a hardcore band named "Atreyu". Many believe that it is from this movie, whereas in fact they were actually named after one of the bandmates brother's who had the same name as the character in this movie.
-Thanks to Renee Hamel
Add some more trivia about the songs used in The NeverEnding Story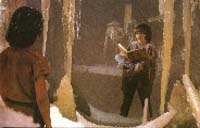 1984