Songs
The soundtrack was performed entirely by the London Symphony Orchestra, and written by James Horner. This is one of Horner's most massive efforts. It forms a bridge between his experimental and growing orchestral talents (heard in in Star Trek II: The Wrath of Khan) and the masterful complexity of themes heard in Willow.
Other movie scores by Horner include Titanic, Star Trek II & III, Rocketeer, Glory, and Aliens.
Can you help with song track list for Krull?
Song Trivia
Do you know any interesting trivia about the songs used in Krull? Please send it in by clicking Here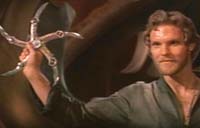 1983
Score Music
Composer(s):
James Horner
Can you help with any information or a review of the instrumental score music heard in Krull? Please Send it in by clicking Here
The following instrumental Score pieces were featured in
Krull
:
Track names in Bold are linked to a Soundtrack release.
Riding the Fire Mares
Slayer's Attack
Widow's Web
Colwyn and Lyssa (Love Theme)
Battle on the Parapets
Widow's Lullaby
Destruction of the Black Fortress
Epilogue and End Credits
Are We Missing Any?
Score Trivia

James Horner also composed music for "Battle beyond the Stars" and the music is nearly identical to "Krulls".
-Thanks to Gerreint Davies
The Score for the movie was written by James Horner, who also wrote the music for Willow and Star Trek 2 and 3!
The choir on the score was the Ambrosian singers with some boys from Desborough School in Maidenhead, England to supply the really high notes.
Add some more trivia about the instrumental music used in Krull