Songs
The Karate Kid II Soundtrack was only released in the USA on LP / Cassette. In Europe there was an extremely limited release on CD.
The following song tracks were featured in
The Karate Kid II
:
Track names in Bold are linked to a Soundtrack release.
The Glory of Love - Peter Cetera
Rock & Roll Over You - The Moody Blues
Fish for Life - Mancrab
Rock Around the Clock - Paul Rodgers
Let Me at 'Em - Southside Johnny
This Is the Time - Dennis DeYoung
Earth Angel - New Edition
Two Looking at One - Carly Simon
Are We Missing Any?
Song Trivia

While Peter Cetera's "GLORY OF LOVE" became a #1 hit from the KARATE KID part II soundtrack, Cetera actually auditioned with a different song called THEY DON'T MAKE 'EM LIKE THEY USED TO. This was an up-tempo tune that Cetera wanted to use to showcase that he did more than sing ballads. However, the producers wanted a ballad so he sang a bit of an unfinished song he had started while still in the band Chicago and that became THE GLORY OF LOVE.
-Thanks to Mark
Add some more trivia about the songs used in The Karate Kid II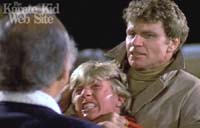 1986