Music...
Music...
AKA: Ding Dong, You're Dead

House Soundtrack

Click for more info & how to buy...

SmartLinking:To save you time, artists listed on this page are only clickable if they have contributed to at least one other movie we feature.
Click these linked names to see what else their music has been featured in...
Coming Soon To This Page:
iTunes Links
Where in the movie the track is used
...& Much More
Songs
The songs in this film are cover versions and not that of the original artists. [Thanks to chadergeist]
The following song tracks were featured in
House
:
Track names in Bold are linked to a Soundtrack release.
You're No Good - Linda Ronstadt
Are We Missing Any?
Song Trivia

The line, "This house knows everything about you... leave while you can!", opens the 12" extended version of "Something In My House" by British group Dead Or Alive. It was released in 1985 and reached number 12 in the UK charts, number 58 in the US.
-Thanks to Kevin
Add some more trivia about the songs used in House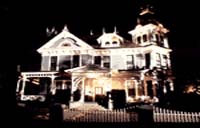 1986
Score Music
Composer(s):
Harry Manfredini
The soundtrack was released on the hugely collectable Varese Sarabande label and is now a sought after CD by collectors. Harry Manfredini's chilling cello opening is a classic in the horror world.
By the way, Manfredini composed the score but that is Roberly Barnhart, a contract player, performing that opening sequence! Roberly or "Robe" as he is known, a long time contract cellist, also contracted players for the score for "Wishmaster." Just thought it only fair that the composer not get the credit for everything. I just talked with Robe about that performance today. He is presently living on the Central Coast in California. [Thanks to A Contract Player]
The following instrumental Score pieces were featured in
House
:
Track names in Bold are linked to a Soundtrack release.
Opening Titles
The Abduction
Hey, Rog!
A Fiery Sandywitch
Ding-Bat Attack
2nd Hand
Viet Memories/The Chimney
Big Ben Chase
Cujo, The Racoon
Viet Rescue
"TransparAuntie"
Roger Gets A Hand
Close Shave
Are We Missing Any?
Score Trivia
Do you know any interesting trivia about the instrumental score music used in House? Please send it in by clicking Here