Songs
Bill Conti composed the music. Sheena Easton sang the title song. The opening musical sequence of the film originally featured another, completely different version of the song composed and performed by Blondie. For whatever legal reasons, Blondie's version was dropped and instead Sheena Easton's version was used. The Blondie version of "For Your Eyes Only" can be found on their album "The Hunter." [Thanks to Robert]
The following song tracks were featured in
For Your Eyes Only
:
Track names in Bold are linked to a Soundtrack release.
For Your Eyes Only - Sheena Easton
Take Me Home - Eddie Blair
Make It Last All Night - Rage
For Your Eyes Only - Derek Watkins
Are We Missing Any?
Song Trivia

Sheena Easton, who sings the title track of the film, is the only Bond movie theme singer to actually appear in the opening credits. Maurice Binder, responsible for designing most of the 007 opening credits, thought Easton very striking and suitable to be shown in this film's opening credit sequence.
Add some more trivia about the songs used in For Your Eyes Only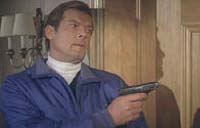 1981