Songs
FLASH! Ahhhhh-Ahhhhh... What can you say about such an iconic work apart from that it must have been pretty hard to make a movie at the time that was a commercial disappointment -despite a multi platinum soundtrack and the title track being #1 both sides of the Atlantic, but that's what De-Laurentis managed.
The soundtrack is a great piece of work and easily stands on it's own as a work of art. Mixed with a few vocal songs performed by Queen are some very interesting and ethereal synth works that set the mood and tone perfectly. As an overall piece, this soundtrack represents some of Queen's most interesting commercial work. The title tune is highly memorable, as is the great ending montage.
The following song tracks were featured in
Flash Gordon
:
Track names in Bold are linked to a Soundtrack release.
Flash's Theme - Queen
Are We Missing Any?
Song Trivia

The music for 'Flash Gordon' was written and performed by legendary rock group, Queen. Their album 'Flash Gordon' was, sadly, considered a flop, selling less than half a million copies in 1980.
-Thanks to Phantom Planet
Add some more trivia about the songs used in Flash Gordon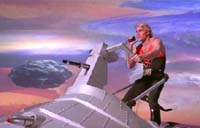 1980