Songs
Can you help with information/opinions about the choice of songs heard in Field Of Dreams? Please click Here
The following song tracks were featured in
Field Of Dreams
:
Track names in Bold are linked to a Soundtrack release.
China Grove - The Doobie Brothers
Jessica - The Allman Brothers Band
Lotus Blossom - Duke Ellington
Daydream - The Lovin' Spoonful
Crazy - Beverly D'Angelo
Are We Missing Any?
Song Trivia
Do you know any interesting trivia about the songs used in Field Of Dreams? Please send it in by clicking Here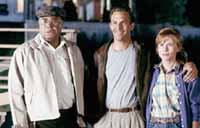 1989
Score Music
Composer(s):
James Horner
James Horner's score is one of those near-perfect musical pieces that helps to define the movie. Even if it's your first time seeing this movie, you have heard the music before.
The score was one of the best original score nominees at the 1989 Oscars, but it lost to "The Little Mermaid". I'd honestly have to say it's a dead heat as to which one is the better score.
The following instrumental Score pieces were featured in
Field Of Dreams
:
Track names in Bold are linked to a Soundtrack release.
The Cornfield
Deciding To Build The Field
Shoeless Joe
The Timeless Street
Old Ball Players
The Drive Home
Field Of Dreams
The Library
'Moonlight' Graham
Night Mists
Doc`s Memories
The Place Where Dreams Come True
End Credits
Are We Missing Any?
Score Trivia

You can watch an interview with James Horner about scoring the movie on YouTube
here
-Thanks to Nick
On June 22, 2015, James Horner was tragically killed when his Short Tucano turboprop aircraft crashed into the Los Padres National Forest near Ventucopa, California.
-Thanks to Nick
James Horner was the first person outside the filmmakers to see the finished film. He was so touched by the final cut that he had to leave the room and compose himself before discussion could begin.
The director and James' agent were so thrown by this that for a moment they feared that he had hated the film and had simply walked out in disgust.
-Thanks to Nick
Add some more trivia about the instrumental music used in Field Of Dreams