Songs
Too bad this one never came out. With songs like "Maniac" it was a good movie soundtrack.
The following song tracks were featured in
ELVIRA, Mistress of the Dark
:
Track names in Bold are linked to a Soundtrack release.
Maniac - Michael Sembello
Once Bitten, Twice Shy - Chacko
Are We Missing Any?
Song Trivia
Do you know any interesting trivia about the songs used in ELVIRA, Mistress of the Dark? Please send it in by clicking Here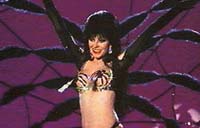 1988