Songs
Great music by "Dick" Rudolph, a great 80s producer, was credited to "Acrobat". Dick makes a rare on-screen appearance as the male half of the DJ duo too.
Dick often worked with Michael Sembello (he did "Maniac" from the soundtrack of '
Flashdance
) and he helped contribute some tracks to the soundtrack.
All the tracks were performed by "Acrobat" and written by the above especially for the movie, with the exception of the following tracks written by other writers:
1. You've Lost That Lovin' Feeling (Barry Mann/Cynthia Weil)
2. What You Say (Michael/Dan Sembello)
3. The Groove Line (Rod Temperton)
4. Rock Until You Drop (Michael/Dan Sembello/Dick Rudolph)
The following song tracks were featured in
Dance 'til Dawn
:
Track names in Bold are linked to a Soundtrack release.
You've Lost That Lovin' Feeling - Barry Mann, Cynthia Weil
The Groove Line - Heatwave
Are We Missing Any?
Song Trivia
Do you know any interesting trivia about the songs used in Dance 'til Dawn? Please send it in by clicking Here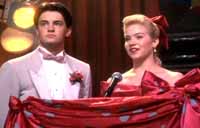 1988