Songs
Being that is had such a low budget, a soundtrack was never made for this film.
However, this film was made around the same time when Madonna was collaborating on songs like "Everybody" which she sang in dance clubs before placing on her self-titled debut album in 1983.
If you're interested in Madonna's music from the early years, than I highly suggest her c.d. titled "In The Begining". This c.d was released in 1997 but, as the title shows, all the songs were made in the very early 80's before Madonna had a record deal.
Here are the tracks to Madonna's c.d. "In The Begining"
1.Laugh To Keep From Crying
2.Crimes Of Passion
3.Aint No Big Deal('97 edit)
4.Everybody
5.Burning Up
6.Aint No Big Deal
7.Everybody
8.Stay('81)
9.Don't You Know
10.Aint No Big Deal
Can you help with song track list for A Certain Sacrifice?
Song Trivia
Do you know any interesting trivia about the songs used in A Certain Sacrifice? Please send it in by clicking Here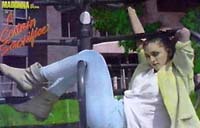 1985