Songs
Another great 80s soundtrack. Although less known than the original, it still contains some truly great and lesser known tracks.
The following song tracks were featured in
Beverly Hills Cop II
:
Track names in Bold are linked to a Soundtrack release.
Shakedown - Bob Seger
Be There - The Pointer Sisters
In Deep - Charlie Sexton
Hold On - Corey Hart
I Want Your Sex - George Michael
Better Way - James Ingram
Love/Hate - Pebbles
Cross My Broken Heart - The Jets
36 Lovers - Ready For The World
I Can't Stand It - Sue Ann
All Revved Up - Jermaine Jackson
Hold On - Keta Bill
Are We Missing Any?
Song Trivia

During the playboy mansion scene, the song being played is "Hold On" by Keta Bill. This is still unreleased to this day and was not put on the soundtrack. Instead, Corey Hart's version was put on the soundtrack. You can however, find Keta Bill's full song online for download at places like Youtube.
In salute to Axel's Detroit heritage, the soundtrack to each movie has featured one song by an artist from the Motor City. The first film had Glenn Frey's "The Heat Is On", the second's is Bob Seger's "Shakedown", and the third was the old Supremes hit "Come See About Me". Inexplicably, though, of all the classic hit songs Bob Seger has released, only "Shakedown" ever hit Billboard's #1 spot.
-Thanks to C.T. Warren
If one looks at the music credits in the end, they'd see the last song credited is called "Spanish Flea", composed by Julius Wechter.
This song does not appear on the soundtrack, and is not performed by any band in the film. The most famous version was recorded by Jazz legend Herb Alpert and it's actually hummed by Axel, Billy and later Sarge, which Billy ID's for him as the theme music to "The Dating Game".
Now, let's give our Beverly Hills heroes a big Dating Game kiss!
-Thanks to C.T.
Add some more trivia about the songs used in Beverly Hills Cop II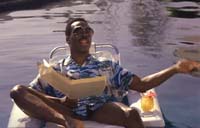 1987
Score Music
Composer(s):
Harold Faltermeyer
Can you help with information/a review of the instrumental music or score track names used in Beverly Hills Cop II?
Can you help with any of the instrumental score track names used in Beverly Hills Cop II?
Score Trivia

The score by Harold Faltermeyer is great music and perfect for the movie, but also show's that Harold Faltermeyer may have been a fan of John Carpenter -who composes the music for his films. The tracks "The Duke arrives" and "The Barricades" from Escape from New York seem to be reflected in compositions done by Faltermeyer for the movie.
-Thanks to Johnney Perkins
Add some more trivia about the instrumental music used in Beverly Hills Cop II