VIBES
SOUNDTRACK
Beverly Hills Cop II Soundtrack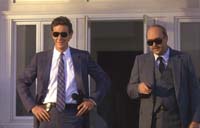 Songs
Another great 80s soundtrack. Although less known than the original, it still contains some truly great and lesser known tracks.Update Us
The following song tracks were featured in Beverly Hills Cop II
highlighted
track names are linked to Soundtrack release info
Artists are linked if they appear in other featured movies.
During the playboy mansion scene, the song being played is "Hold On" by Keta Bill. This is still unreleased to this day and was not put on the soundtrack. Instead, Corey Hart's version was put on the soundtrack. You can however, find Keta Bill's full song online for download at places like Youtube.
In salute to Axel's Detroit heritage, the soundtrack to each movie has featured one song by an artist from the Motor City. The first film had Glenn Frey's "The Heat Is On", the second's is Bob Seger's "Shakedown", and the third was the old Supremes hit "Come See About Me". Inexplicably, though, of all the classic hit songs Bob Seger has released, only "Shakedown" ever hit Billboard's #1 spot.
If one looks at the music credits in the end, they'd see the last song credited is called "Spanish Flea", composed by Julius Wechter.

This song does not appear on the soundtrack, and is not performed by any band in the film. The most famous version was recorded by Jazz legend Herb Alpert and it's actually hummed by Axel, Billy and later Sarge, which Billy ID's for him as the theme music to "The Dating Game".

Now, let's give our Beverly Hills heroes a big Dating Game kiss!
Next Section: The Instrumental Music
Instrumental Score
Primary Composer(s): Harold Faltermeyer

Can you help with any information/opinions about the instrumental score music heard in Beverly Hills Cop II? Please Update Us


The score by Harold Faltermeyer is great music and perfect for the movie, but also show's that Harold Faltermeyer may have been a fan of John Carpenter -who composes the music for his films. The tracks "The Duke arrives" and "The Barricades" from Escape from New York seem to be reflected in compositions done by Faltermeyer for the movie.
Jump To: The Juicy Trivia!
Or use the menu to select another option
1987 Paramount Pictures
1999-2018 fast-rewind.com
V4.0b Powered by Rewind C21 CMS