Music...
Music...
AKA: Seven Doors of Death, E tu vivrai nel terrore - L'aldilą

The Beyond Soundtrack

Click for more info & how to buy...

SmartLinking:To save you time, artists listed on this page are only clickable if they have contributed to at least one other movie we feature.
Click these linked names to see what else their music has been featured in...
Coming Soon To This Page:
iTunes Links
Where in the movie the track is used
...& Much More
Songs
Can you help with information about the music or song tracks used in The Beyond?
Song Trivia

The rock band "Europe" wrote a song inspired by this movie. The song called "Seven Doors Hotel" was one of the successful track on the first album "Europe" recorded in 1982.
-Thanks to Jose A. Martnez
The American death metal band 'Necrophagia' has made their own kind of tribute song to "The Beyond" called "And You Will Live In Terror". They also have a music video for this song, featuring footage from the film.
-Thanks to Aleksander Serigstad
Add some more trivia about the songs used in The Beyond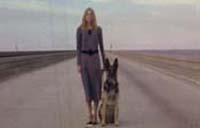 1981