Songs
Can you help with information/opinions about the choice of songs heard in Amadeus? Please click Here
The following song tracks were featured in
Amadeus
:
Track names in Bold are linked to a Soundtrack release.
Queen Of The Night - June Anderson
Are We Missing Any?
Song Trivia

The mystery and intrigue of Mozart was captured memorably by Austrian 80's musician Falco with his song "Rock me Amadeus", which was a number one hit in the U.S. Falco was a classically trained prodigy who also wrote the hit "Der Kommissar" which was performed by After The Fire. Tragically, Falco was killed in a car crash at the age of 40.
Add some more trivia about the songs used in Amadeus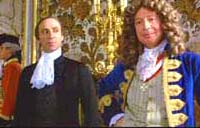 1984