Songs
James Newton Howard's score is a brilliant combination of synthesizers and a traditional orchestra. It's very well-suited to this piece.
Additionally, songs are included by Miguel Cruz, Lonnie Mack, New Toys and Koko Taylor.
It's unknown as to whether this soundtrack was ever released on cassette/vinyl/CD. Anybody care to let us know?
Can you help with song track list for 8 Million Ways To Die?
Song Trivia
Do you know any interesting trivia about the songs used in 8 Million Ways To Die? Please send it in by clicking Here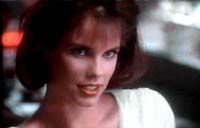 1986