FILMFACTS
PRODUCTION

Making Some Kind Of Wonderful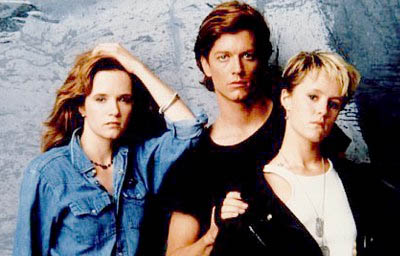 Production
Go behind the scenes on the 1987 Teen Drama movie starring Eric Stoltz, Lea Thompson, Mary Stuart Masterson More Cast
We believe the following info is all legit. If it's bogus or you have additional info, please update us.
Martha Coolidge (director of "Valley Girl") was originally hired to direct the film but was replaced by Howard Deutch.

UPDATE: politeintruder kindly wrote in to add that "Martha Coolidge spent a long time in prep for the film as well. Her influence on the emotional aspects of the script are still there. I heard her explain this at a Q&A following a screening of Valley Girl. It was a big upset when she was eventually replaced by Deutch who just kinda remade Pretty In Pink again with Some Kind Of Wonderful."
Thanks to
Stephanie &Amp; Mel
Eric Stoltz and Lea Thompson were actually dating during the making of the movie. So that scene in which Mary Stuart Masterson and Stoltz kiss for the first time and they're blushing, it's not make-up. They really are blushing.
In the final scenes, Keith and Watts walk down the street, presumably towards home, while Amanda is left to find her own way home, leaving the Jaguar, with the keys left in by Watts, sitting in front of Hardy's house. But in the original script, Amanda is given a ride home by Shane, while Keith and Watts walk back to get the Jaguar.
This movie's school location was filmed at San Pedro High school in San Pedro, CA.
Eric Stoltz and Lea Thompson were good friends long before the making of the film. Stoltz actually dropped off the script to Lea Thompson, who was physically shaking from all of the bad reviews of the film Howard the Duck in which she had just played the lead role in. She originally didn't want to star in the film because she feared she couldn't survive the humiliation of another flop. But Stoltz's excitement of the script was contagious and the rest is history.
Eric Stoltz and Howard Deutch did not hit it off at first, as Deutch had a hard time learning and coping with Stoltz's acting technique.
Next Section: Deleted Scenes
Deleted Scenes
There are often scenes cut from the final version of a movie. Sometimes these will have been seen by preview audiences, or be included in Blu-ray or DVD extras etc.
The following missing scenes from Some Kind Of Wonderful are believed legit. If you disagree or have additional info, please update us.
In the original script, and in the movie novelization, there's a scene where Duncan meets Keith's father Cliff in the school corridor, after his meeting with Keith's teacher.

Duncan is busy trying to break into Keith's locker, and when interrupted acts like a hall monitor, demanding ID from Cliff. He gets commended for being so security conscious, and Cliff goes away impressed at the standard of students at the school. Duncan simply goes back to attacking the locker with a screwdriver.
Next Section: Alternate Versions
Alternate Versions
Sometimes, there will be several versions of a movie floating about on cable, tv or video etc. Other times, a Director may release a special cut of the movie on Blu-ray or DVD.
The following versions of Some Kind Of Wonderful are apparently real. If you disagree or have additional info, please update us.
A deleted scene that can be seen in the TV version, is an extended conversation Keith has with his sister before he goes out with Amanda in which he kisses her on the forehead.
Jump To: Filming Locations
Or use the menu to select another option
1987 Paramount
1999-2018 fast-rewind.com
V4.0b Powered by Rewind C21 CMS