FILMFACTS
PRODUCTION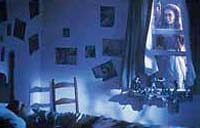 Production
Go behind the scenes on the 1988 Horror / Occult movie starring Lukas Haas, Len Cariou, Alex Rocco More Cast
We believe the following info is all legit. If it's bogus or you have additional info, please update us.
My husband and his family are extras in the film. It was filmed outside of Lyons, NY. Another film shot there was the B movie, "Slugs".
Frank LaLoggia strived to portray Lukas Haas' character as "a real kid, not a movie kid." To that end, he tried to make the horseplay between Frankie and his older brother as lifelike as possible, as well as Frankie's shy infatuation with the angel-like girl in his class, played by Lyons-area resident Lisa Taylor.
Writer/director, Frank LaLoggia, also played around with a popular ghost story from his childhood -- "my own" lady in white." According to Rochester legend, says LaLoggia, 50 or 60 years ago a woman who had lived close to a park near LaLoggia's house lost her lover to another woman. Becoming a woman scorned, she killed both her paramour and his new friend and was consequently condemned to forever haunt the area. "Teenagers in the town's 'lover's lane' said she especially liked to frighten girls who were with their boy-friends. At least that's the way I heard it."
"When I think about "Lady in White", I think about it as a combination of two things -- my fondest memories as a child and my most frightening nightmares," says writer/director, Frank LaLoggia. "Whenever I begin work on a new story which I eventually take to screenplay, images start and compel me more than anything else."
One of the pictures LaLoggia had in his head was the cloakroom in which Lukas Haas is locked early in the film. The fact that it was behind the schoolroom's chalkboard, as well as its odd shape and strangely fashioned curved window, made the cubbyhole exactly like the one LaLoggia dreaded entering when he was a fourth grader. "It was one of the most frightening places I had ever seen," says LaLoggia. "At the beginning of the day you would have to crowd into it and hang your coats on these big hooks and, of course take them off the hooks at the end of the day. Luckily, we did that as a communal effort. Going in alone would definitely not have been much fun for me!"
Next Section: Deleted Scenes
Deleted Scenes
There are often scenes cut from the final version of a movie. Sometimes these will have been seen by preview audiences, or be included in Blu-ray or DVD extras etc.
Shucks.. We don't know of
any
cut scenes from "Lady in White".
Can you help?
Please
add one
for others to enjoy.
It's quick & easy
Next Section: Alternate Versions
Alternate Versions
Sometimes, there will be several versions of a movie floating about on cable, tv or video etc. Other times, a Director may release a special cut of the movie on Blu-ray or DVD.
Aw, man.. We don't know of
any
alternate versions of "Lady in White". If
you know
better, please
add one
for others to enjoy.
It's quick & easy
Jump To: Filming Locations
Or use the menu to select another option
1988 New Sky
1999-2018 fast-rewind.com
V4.0b Powered by Rewind C21 CMS