Making Of...
Making Of...
Don't Tell Her It's Me Behind The Scenes
AKA: The Boyfriend School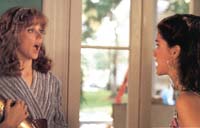 1989
Gus's makeup would mean that Guttenberg had to endure six hour cosmetic makeup sessions.
To be able to empathise with his character, Steve Guttenburg spent weeks with people who were being treated for the same disease.
Writer Sarah Bird had never written a screenplay before 'Don't Tell Her It's Me'. Bird said "That was not only the first script I'd ever written, but, literally, the first one I'd ever READ! I wrote it when I was about 3/4 of the way through the novel as a way to get to know Gus since I didn't want to rewrite the entire book in prose form from his POV." Her thoughts after her first screenplay were: "The big lesson was how much the visual overwhelms the verbal and how you have to write visually. It makes little difference how clever the dialog is if the screenplay is not written with the visual in mind."
Hurricane Hugo devastated South Carolina, where the film eventually was made, causing production to be halted for two weeks. Most of the work had already been done. Many of the exteriors seen in the movie were sadly destroyed.
Deleted Scenes
When movies are made, scenes are often left on the cutting room floor.
Alternate Versions
Sometimes, there will be several versions of a movie floating about on cable, tv or video etc. Other times, a Director may release a special cut of the movie.