FILMFACTS
PRODUCTION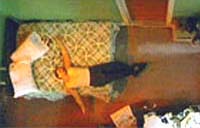 Production
Go behind the scenes on the 1981 Thriller movie starring John Travolta, Nancy Allen, John Lithgow More Cast
We believe the following info is all legit. If it's bogus or you have additional info, please update us.
In May 1981, two months before Blow Out was to be released, a New York delivery van carrying negative footage was robbed of two boxes containing the entire parade sequence. "I just went crazy when I heard," said De Palma. "I found out where the truck had stopped and looked on the street and all around it to see if the robber just didn't dump it when he saw it wasn't anything he could sell easily. Of all the different boxes, a total of fifty in all -- the boxes that were taken were of the most expensive scenes we shot." A reward was offered, but none of the anonymous leads called in to the production office proved fruitful. With $750,000 in negative insurance, the sequence was restaged from scratch in early June. Cinematographer Laszlo Kovacs filled in for Vilmos Zsigmond (who had moved on to another picture) and extras were dressed in winter clothing to match the rest of the film. Asked whether he thought the thieves had stolen this footage deliberately, De Palma said he was absolutely sure this wasn't the case, and that the whole incident, like the conspiracy at the heart of the film was just "a very haphazard accident."
During production, John started learning the violin to calm his nerves due to a lack of sleep. He has always suffered from insomnia since he used to wait up for his mother to return home late from acting jobs when he was a kid.
The film was originally called 'Personal Effects' which can be seen written on the door of Jack's office throughout the movie.
Next Section: Deleted Scenes
Deleted Scenes
There are often scenes cut from the final version of a movie. Sometimes these will have been seen by preview audiences, or be included in Blu-ray or DVD extras etc.
Shucks.. We don't know of
any
cut scenes from "Blow Out".
Can you help?
Please
add one
for others to enjoy.
It's quick & easy
Next Section: Alternate Versions
Alternate Versions
Sometimes, there will be several versions of a movie floating about on cable, tv or video etc. Other times, a Director may release a special cut of the movie on Blu-ray or DVD.
Aw, man.. We don't know of
any
alternate versions of "Blow Out". If
you know
better, please
add one
for others to enjoy.
It's quick & easy
Jump To: Filming Locations
Or use the menu to select another option
1981 Filmways
1999-2018 fast-rewind.com
V4.0b Powered by Rewind C21 CMS