FILMFACTS
PRODUCTION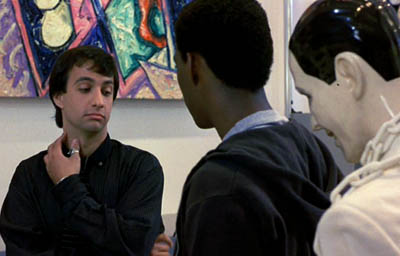 Production
Go behind the scenes on the 1984 Action / Adventure movie starring Eddie Murphy, Judge Reinhold, John Ashton More Cast
We believe the following info is all legit. If it's bogus or you have additional info, please update us.
The completed movie made such an impression on Paramount executives that they comitted to a sequel moments after the first private executive screening of the completed film.
Axel's boss, Inspector Todd, was in fact a real life Detroit police detective at the time!!! The director noticed him during a trip to the police station and hired him for the part!
Bronson Pinchot invented the persona of "Serge" himself after being inspired by all the shop assistants in Beverly Hills whose nationality was ambiguous. His meeting with Axel in the art gallery was almost entirely ad-libbed and had to be done many times due to members of the cast and crew breaking up with laughter.
The hilarious bit where Axel rolls up to the Harrow club in his "crappy blue chevy-nova" and says something like "Put it in a good spot, all this sh*t happened the last time I parked here" was a witty ad-lib by Murphy, as was the entire "SuperCop" story he tells to Bogamil.
Producer Don Simpson sadly passed away in early 1996, after years of battling drug addiction. "The Rock" was the last film he and Jerry Bruckheimer made together.

Bruckheimer, on the other hand, has spent the last 15 years producing movies on his own, and doing wonderfully with it. He finished out the 90's with "ConAir", "Armageddon" and "Enemy Of The State". In the 21st Century, he turned some of his talents to television with such shows as "The Amazing Race", "Cold Case", and the three "CSI" series. But Mr. Blockbuster(as he's called) also continued his film work with "Pearl Harbor", "Gone In 60 Seconds" and "Black Hawk Down". But beginning in 2002, his partnering with Walt Disney Pictures has given Jerry some of his greatest success, especially the two franchises "Pirates Of The Caribbean" and "National Treasure".
During the "supercops" scene John Ashton has his head down pinching his face in apparent frustration but he is actually laughing. Judge Reinhold had his hand in his pocket pinching his leg as hard as he could to stop himself laughing. This is one of many scenes with improvised lines. Eddie Murphy, John Ashton and Judge Reinhold all had improvised comic lines throughout the film and there were many ruined scenes because of the cast and crew breaking out in laughter.
The scene where Taggart & Rosewood are sat in their car and Rosewood talks about "the average middle age American man having 5 pounds of undigested red meat in his bowels" was actually used as a casting scene.

The director was testing the chemistry between the finalists and gave them scenes to improvise. Ashton & Reinhold's scene was as an average middle-age couple. The scene in the film is their improvision that got them the parts.
Next Section: Deleted Scenes
Deleted Scenes
There are often scenes cut from the final version of a movie. Sometimes these will have been seen by preview audiences, or be included in Blu-ray or DVD extras etc.
Shucks.. We don't know of
any
cut scenes from "Beverly Hills Cop".
Can you help?
Please
add one
for others to enjoy.
It's quick & easy
Next Section: Alternate Versions
Alternate Versions
Sometimes, there will be several versions of a movie floating about on cable, tv or video etc. Other times, a Director may release a special cut of the movie on Blu-ray or DVD.
The following versions of Beverly Hills Cop are apparently real. If you disagree or have additional info, please update us.
Thanks to
John Edward Kilduff
Among the language edits for the broadcast and some cable versions, you can find an interesting alternate scene. I just noticed this on a recent airing of the movie on Comedy Central. When Taggart calls Foley vulgar, instead of saying "(Bleep) you", Foley calls Taggart a "pigface".
Jump To: Filming Locations
Or use the menu to select another option
1984 Paramount Pictures
1999-2018 fast-rewind.com
V4.0b Powered by Rewind C21 CMS