FILMFACTS
PRODUCTION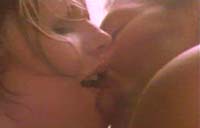 Production
Go behind the scenes on the 1986 Drama movie starring Mickey Rourke, Kim Basinger, Margaret Whitton More Cast
We believe the following info is all legit. If it's bogus or you have additional info, please update us.
A body double was used for Kim Basinger for a lot of the explicit scenes. The legs in the art gallery basement scene as well as the 'ice' scene. No one knows who the double is because she is uncredited, but that's definitely NOT Kim's body. It's been Hollywood lore for a long time.
Alledgedly, the two main co-stars didn't get along too well and it is reported that Basinger stated that kissing Rourke was like kissing an old pack of cigarettes.
It was reported that 9 1/2 Weeks co-star, Mickey Rourke, slapped Kim Basinger's face on set on the orders of director Adrian Lyne to "break her down."
Next Section: Deleted Scenes
Deleted Scenes
There are often scenes cut from the final version of a movie. Sometimes these will have been seen by preview audiences, or be included in Blu-ray or DVD extras etc.
The following missing scenes from 9 1/2 Weeks are believed legit. If you disagree or have additional info, please update us.
I live in France; I clearly remember, when the film premiered, that the French movie magazine Starfix, from an interview with director Adrian Lyne and main actors, stated that Lyne's own personal version of the film lasted 3 hrs !

The film as intended by the director supposedly went much further thant its rather middle-of-road bdsm-oriented eroticism; yet I doubt we'll ever be able to see that version, but at least everyone has the right to know that it does exist somewhere, and that the final result, even in its "uncut uncensored" Blu-ray release, is far from being final !
Next Section: Alternate Versions
Alternate Versions
Sometimes, there will be several versions of a movie floating about on cable, tv or video etc. Other times, a Director may release a special cut of the movie on Blu-ray or DVD.
The following versions of 9 1/2 Weeks are apparently real. If you disagree or have additional info, please update us.
Many different versions of this movie were released at the time into different markets. The US theatrical version was the 'softest' with a slightly riskier videocassette version available in the US later on. In Europe the version was always more explicit. Now on DVD, you can see for the first time the completely uncut and unrated version.
Jump To: Filming Locations
Or use the menu to select another option
1986 MGM Studios
1999-2018 fast-rewind.com
V4.0b Powered by Rewind C21 CMS