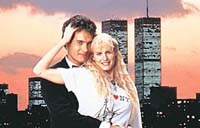 1984

Featured Movie Location:
The Department Store
Wanna see the real life filming location used for
The Department Store
in the movie? These scenes were actually shot at
Bloomingdales
, located in New York,
New York
. [
Google Map
]
Locations Manager(s):
William T. Schneider
, Harry Grier, B.J. Johnson
On Location
Allen's (Tom Hanks') apartment is at Tudor City Place. He works at the Fulton Fish Market, Fulton Street.
78 Water Street, New York. [Thanks to Hannah Gallagher]
Statue of Liberty-unfortunately, the interior is no longer accessible, the result of the events of September 11, 2001. [Thanks to Jonathan Lim]
Pennekamp Park Key Largo Florida was used for the underwater shots.
Can you help? Do you know any of the New York, New York (or any other) filming locations used for Splash? [Please send them in]
Locations Links
If you know of a good link for Splash locations, please let us know.